Ten Hope Is Now Open, Offering Fantastic Dips, Music, Cocktails, and More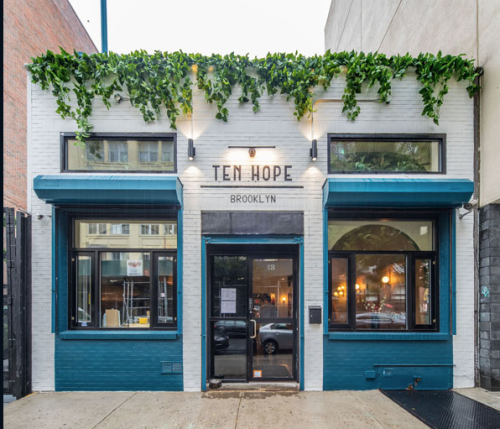 Depending on what you're seeking in some bites and drinks on a night out, Ten Hope (10 Hope St.) likely has what you're looking for.
Craft cocktails? This is Williamsburg. Awesome hummus dishes to snack on? They've got it. Live music, a twinkly outdoor area and plush blue chairs to lounge in? Ten Hope has it all.
View this post on Instagram
Whether or not you want all of these things at once may make the whole weaker than its parts, but as one of Brooklyn's newest restaurants located at, yes, 10 Hope Street, this eatery shows a lot of promise as it continues to finesse its definition.
The menu skews Mediterranean, the outdoor string lights skew Williamsburg, and the delightful band I saw covered tunes by Fleetwood Mac. (On Tuesdays the restaurant will host Studio Sessions, introducing local ensembles.)
The volume was perfect for listening and sipping, a tad loud for simultaneous conversation, but such is the difficulty of playing indoors on a rainy night in a smaller venue.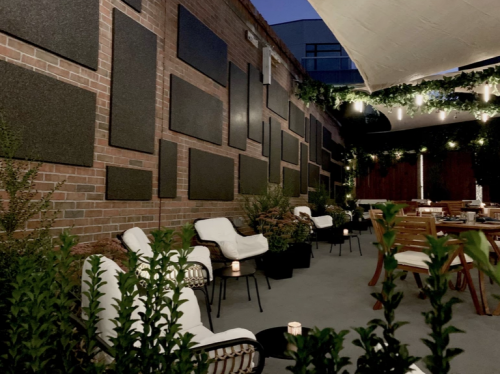 None of which is meant to diminish the highly flavorful menu, warm ambiance, and charming staff of Bill Zafiros' new restaurant that is filling a nice little void in the residential nook of Williamsburg, making Ten Hope a welcome destination slightly off the beaten path.
The Eloquence cocktail makes use of aquafaba (chickpea water) instead of egg whites to froth the top of this refreshing mixed drink, keeping it vegan-friendly and delicious. For those seeking something less adventurous, the Half Royal is the star of the show, a bourbon cocktail swimming in a ruby red concentration. The drinks, which also include a handsome selection of local beers and international wines, range from $7 to $14 by the glass.
View this post on Instagram
Then there's the food, helmed by consulting chef Harold Dieterle: a quartet of house-made dips compose the hummusy appetizers (the beet and whipped feta ones are standouts) followed by a small menu of hearty main dishes. These include a burger, lamb ribs, and scallops, all of which is under $30 and comes out in an efficient but relaxed fashion. And stylishly so: on handsome clay plates that add a pop of color to this dim and cozy haven, the food is as vibrant and chic as the neighborhood surrounding it.