From Greenpoint to Albany: Safe Way Home Act Awaits Governor Cuomo's Signature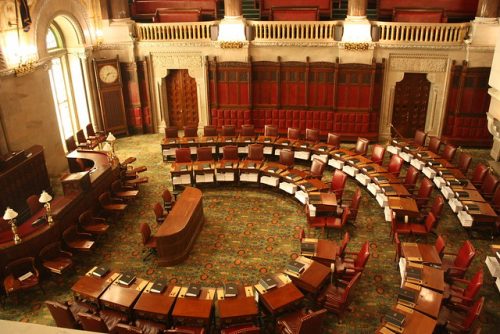 A new state law that began in Greenpoint as a crowdfunding campaign to provide sexual assault victims free transportation home from the hospital following treatment is headed to Governor Andrew Cuomo for final approval.
The Safe Way Home Act (Senate Bill S3966A) unanimously passed both the New York State Senate and Assembly in June and the bill is headed to the Governor, whose 2019 Women's Justice Agenda passed legislation this year including criminalizing revenge porn and strengthening workplace harassment protections.
Deborah Spiroff, a Greenpoint resident since 2004, and a volunteer for the past two years at Wycoff Heights Medical Center's Violence Intervention Treatment Program raised concerns for sexual assault survivors who have no choice but to walk home alone after being discharged from the hospital.
"I've had more than one case where after the person has been treated they're just released, and they literally were walking home from Wycoff Hospital at 2 o'clock, 3 o'clock, 4 o'clock in the morning," Spiroff told Greenpointers last winter when the bill was first introduced.
My bill A5775A, known as the Safe Way Home Act, has passed. This bill provides sexual assault crime victims and crime victim advocates shall be entitled to free transportation to and from medical facilities.

Thanks to @SalazarSenate for partnering with me on this important bill.

— Joe Lentol (@assemblymanjoe) June 18, 2019
Sprioff launched the initial GoFundMe campaign raising $750 for survivors and began reaching out to local elected officials. State Assemblyman Joe Lentol introduced the Safe Way Home Act after meeting with Spiroff and State Senator Julia Salazar sponsored the bill.
The Safe Way Home Act ensures that survivors of sexual violence are provided safe transportation home from the hospital, at no cost to them.

This bill is just one step to support and seek some relief for survivors. Thanks to @assemblymanjoe for partnering with me on this. https://t.co/SddrEsddXX

— Julia Salazar (@JuliaCarmel__) June 13, 2019
"The creation of programs to better our communities frequently come straight from those experiencing problems," Lentol said in a statement. "I am happy to say the Safe Way Home Act was yet another incredible achievement spearheaded from a constituent. Deborah Spiroff saw a problem and found a solution," he said.
"Sexual assault survivors deserve the highest standard of care, and part of that includes a ride home after what is often the most traumatic day of the victim's life," Salazar said in a separate statement. "This is common-sense legislation that shows the positive results of people getting involved in their community and in their government. I am grateful to Deborah Spiroff for bringing this issue to my attention and to Assemblyman Lentol for working with me to pass this bill into law."