New Gates at Greenpoint Playground Just In Time For Spring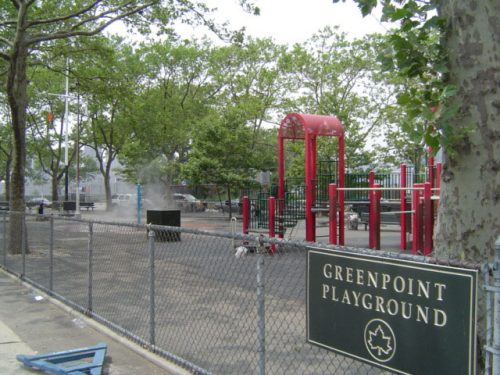 Greenpoint residents have long been concerned about the open entrances to Greenpoint Playground at Dupont and Franklin Streets. John Whiteman, of Arete Living Arts Foundation, explained, "The playground has two large entrances with no gates. The main entrance leads right out onto a busy roadway. It is also beside a heavy construction site so there are lots of large vehicles coming through. Many times I have seen small children run through the gate and out toward the streets while horrified parents run after them."
He shared his concern with Mayor de Blasio, Brooklyn Councilman Stephen Levin, and the Parks Department. The City has headed his cry. The Parks Department began discussing the project with local Greenpointers last fall, and installed gates at the end of March. 
Park's Department press rep Maeri Ferguson explained that the process was lengthy because Greenpoint Playground's large entrances required custom gates, fabricated specially by Park's Department blacksmiths. 
Warmer weather and a safer park! Have fun, Greenpoint!