Pigeons and Protests: The Battle for Tenants Rights at 79 Lorimer Street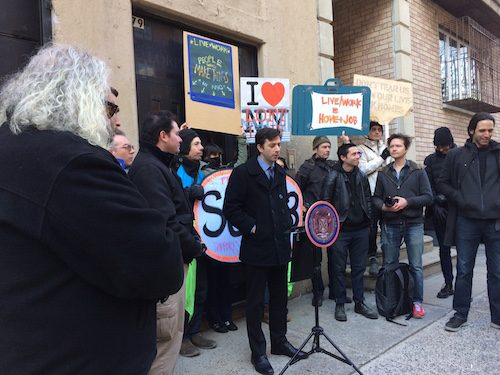 At a press conference today in front of 79 Lorimer Street, a multiple-dwelling loft building in South Williamsburg, Councilman Stephen Levin Called the situation "truly Kafkaesque": three and a half years ago, the building's tenants were evicted from their homes and workspaces with 24-hours notice. Since that time, they have not been allowed back in the building, but their possessions remain trapped inside. Meanwhile, the property's spiteful owners have knocked out windows, turning what were once  functioning homes and studio spaces into pigeon roosts. Today, everything the tenants own is covered in pigeon poop. 
Levin also called the situation "unconscionable," and decried the fact that the City has allowed the tenants' rights to be trampled, even under the pro-tenant de Blasio Administration. The situation is even more frustrating because legally, the tenants rights have been secured. After winning the legal designation of loft tenants, and thereby the right to remain in their homes, the residents of 79 Lorimer had a meeting in City Hall itself 2 years ago. Since that time, their case has ping-ponged through unresponsive City agencies.
The fight to recover their possessions and their homes continues as the displaced tenants remain homeless.  Artist and musicians by trade, the possessions trapped there are the stuff of their livelihoods. With lives displaced and businesses ruined, the tenants still await response from the city. At today's press conference, Levin had one message for the City: "Shame on You," and another for the owners of the building: "Double Shame."