Greenpoint Buildings are the Star of a New Halloween-Themed Mobile Game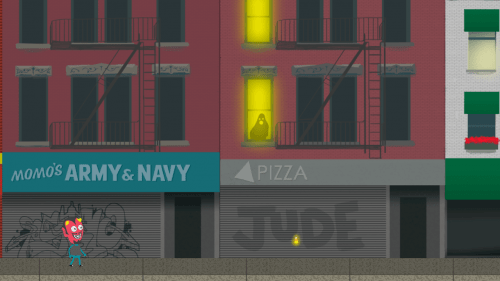 A just-released game for iOS and Android, Hallows' Eve, created by longtime Greenpoint residents Randall J Lane and Judy Brown, uses Greenpoint buildings as the backdrop for a spooky cast of characters—a devil, a witch, a skeleton, catwoman, a mummy, ghosts, and a pumpkinhead. If you look closely you'll notice the Huron Public Baths, a recognizable Army Navy shop, The Diamond bar, Word bookstore, a flower shop, wine shop and hardware store.
The game takes you on a nostalgic trick or treat adventure through Greenpoint-based streets, where you try to collect candies and avoid the "scaries," unless you uncover the elusive full-size candy bar which will turn you invincible against their wicked ways. The eerie music has been composed by NYC-based musician Lori Scacco, and takes inspiration from 1970s Italian horror movie soundtracks, by composers such as Ennio Morricone and the band Goblin. Hallows' Eve The Game is available for 99 cents until midnight on October 28th on Google Play and October 30 on Apple's App store.