Franz Ferdinand's Bold New Line-up Rocks Warsaw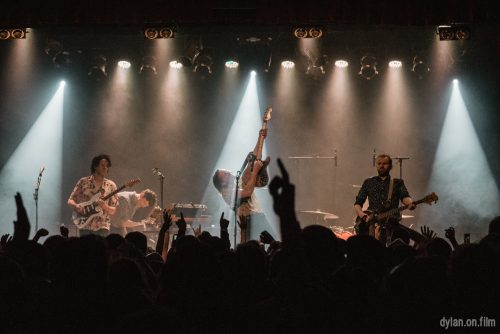 Franz Ferdinand played to a sold-out house last night at Warsaw (261 Driggs Ave) on their first tour since 2014 supporting Right Thoughts, Right Words, Right Action. The band's new lineup is comprised of Alex Kapranos (lead vocals and guitar), Bob Hardy (bass guitar), Paul Thomson (drums, percussion and backing vocals) and Dino Bardot (guitar) and Julian Corrie (synth, guitar) replaced founding member Nick McCarthy, who left the band last summer.
After playing Governor's Ball over the weekend, the band extended their stay in New York City playing the show as part of Governor's Ball After Dark.The crowd was as electrified as the band, especially when they played dance-beat heavy songs such as "No You Girls", "The Dark of the Matinee" and "Take Me Out", dancing, jumping and waving their arms to the music. Franz Ferdinand returned to the stage for an encore performance and ended their show with energy surging, "This Fire" and hand-in-hand the band took a bow.
Set List Warsaw 6/5/17
Jacqueline
No You Girls
Paper Cages
The Dark of the Matinee
Do You Want To
Walk Away
Stand on the Horizon
Lazy Boy
The Fallen
Michael
Huck & Jim
Take Me Out
Ulysses
Encore
Always Ascending
Darts of Pleasure
Love Illumination
This Fire