Say Hello to West Street's New Wine Bar!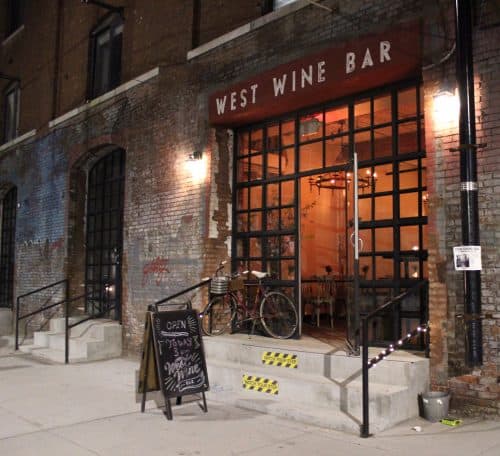 New apartments aren't the only thing popping up on West Street! This past weekend, West Wine Bar had its soft opening at 67 West Street between Noble and Milton in Greenpoint, and at 5 pm on Sunday, the place was bustling. The door was wide open with knowledgeable and friendly staff ready to greet the neighborhood. There were a handful of patrons at tables throughout the evening with locals popping in and out to check out the new space. And, of course, the wines, of which there are many.
Upon sitting down, we were immediately treated with a delicious taste of house made red sangria and a snack of warm, salty freshly popped popcorn.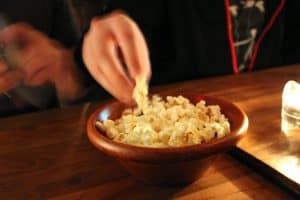 The menu consists of 34 bottles, nearly two full pages worth of wine. After reviewing the list, I opted for a bottle of Lal Kavaklidere, a rosé, perfect for a nice spring evening. The waiter presented the bottle, told us a bit about the region in Turkey the wine came from and poured us a dry, easy to drink rosé.
The price points on the bottles of wines were very reasonable, ranging mostly from low $30s to high $40s, with most glasses in the realm of $9 to $12. The wines hail from around the world, from Turkey to California to South Africa. The owners, Amit and Sevin, originally from Turkey, just moved to New York two years ago to open the wine bar. Although this is their first venture into the food and wine business, both mentioned being trained in wines. There is also a sommelier on site to guide you, from the Pinot Noirs of varying regions to the sweeter, port wines, like the Öküzgözü. Once you've made your way through the wine, the rest of the menu focuses on beers, ciders, light bites and cheeses.
The savory bites on the menu are sectioned into small plates, meat & fish, and salad & bruschetta, while a second page focuses on a listing of 18 kinds of cheese, from bloomy and soft ripened to blue. The bar does not have a formal kitchen but plans to focus on cheese and tapas-style eats. Personally, I am a sucker for small plates (and all things cheese) because I am an indecisive orderer and always want to order multiple dishes.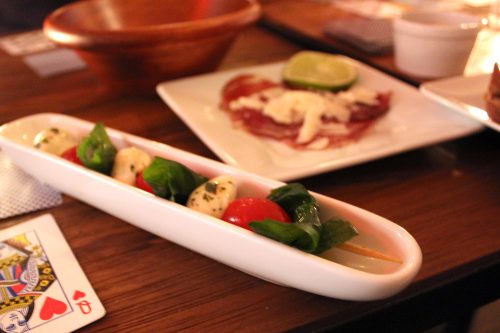 I thought it was a nice touch that one of the bruschetta options comes with Brooklyn's own Mike's Hot Honey, who runs their operation upstairs. Sevin noted it's already a menu favorite. My order of kalamata olives, marinated mozzarella balls, and beef bresaola (with Parmigiana Reggiano) came quickly and was all presented in a beautiful manner. The taste of each was fresh and flavorful. My only slight disappointment was the number of olives, about four single olives for the price of $4. At the same price point, the portion of mozzarella, tomato and basil was more than fair. From cheese to chocolate there are plenty of goodies to pair with the list of wine. I look forward to working my way through the menu!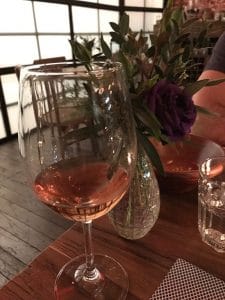 The space is a one room set-up, with a large bar and tables adorned with lively floral arrangements, and decorated tastefully, with a mostly wood interior. Their six small tables have two to four seats each and there are two larger tables to host bigger groups. The evening's mood lighting, perfect for a candlelit date or a friendly catchup. Overall, West Wine Bar had a great vibe. This is definitely the kind of place you can sit in comfortably for hours, eating and drinking your way through your conversations.
Next week, the white walls will transform into a gallery, first featuring artwork from NOTOS, another upstairs neighbor and local artist. The bar lives within the larger building complex of 67 West St, which also houses the Greenpoint Loft, where we host the Greenpointers Markets. After seeing the space, the owners knew it was the perfect setting to make their dream a reality. Just over one week out from the opening and they are extremely happy with the space and feel of the neighborhood.
For now, West Wine Bar opens daily at 3 pm. Keep an eye out for the grand opening towards the end of the month – surprises and new additions may be in store!
West Wine Bar  is located at 67 West Street.