Pigeon Pets, Greenpoint Garbage Moves Away, and Back Stabbing — The Hook-Up 4/21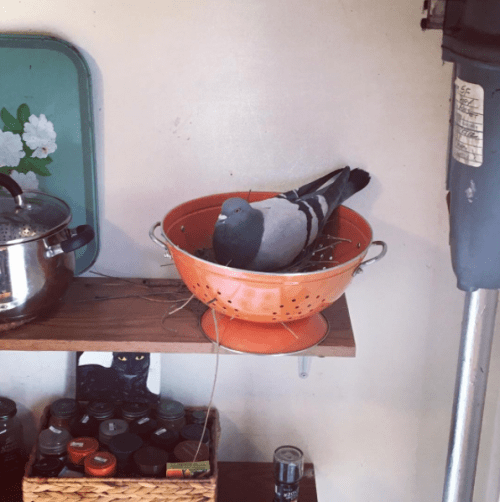 Omg! A pigeon flew into someone's kitchen near the Lorimer stop and made a nest inside a pasta strainer. Follow Adelaide the pigeon on Instagram.
This Fall, some of our Greenpoint garbage will be moving out of the neighborhood. Maybe the rent was too damn high?
Bushwick Inlet Park is finally complete! The mayor just closed the deal on the purchase of the CitiStorage site, the last remaining parcel needed to complete the 27-acre waterfront park. Mayor de Blasio tweeted the deal's closing saying, "We keep our promises to New Yorkers."
A Bushwick woman stabbed her boyfriend in the back with a kitchen knife during an argument about him going out and tying one on.
There was a 2-alarm fire last night in Williamsburg/Bushwick that required more than 100 firefighters on the scene.
A cyclist was attacked by a car driver and passenger in Bushwick following an agressive confrontation with the motorist.