Where To Watch The Oscars In North Brooklyn!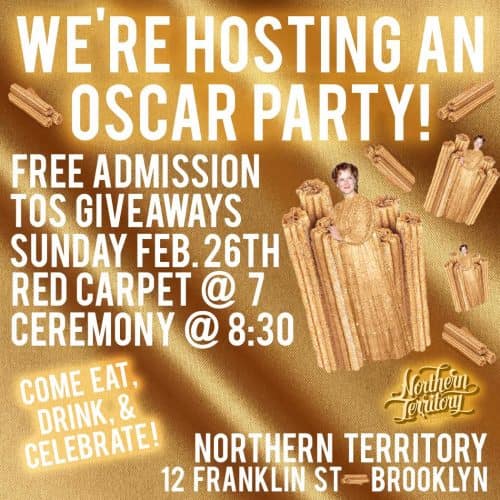 The 2017 Academy Awards will kick off this Sunday at 8:30pm. If you have the urge to watch from anywhere but your couch, here's where you can watch it on big screens in our 'hood.
Northern Territory | 12 Franklin St.
Northern Territory is hosting an Oscars blowout in collaboration with the best Meryl Streep-themed Instagram account ever, Taste of Streep. The watch party starts with the live red carpet pre-show at 7:00 with the main show starting at 8:30. Admission is free and you have a chance to walk away with some rad Taste of Streep goodies.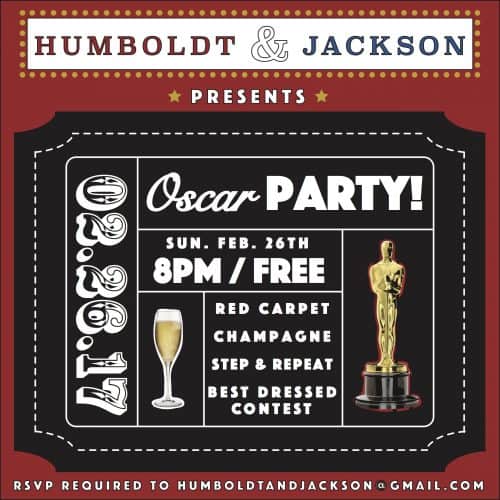 Humboldt & Jackson | 434 Humboldt St.
H&J is rolling out the red carpet (yes, an actual one) this Sunday for their Oscars viewing party. Don your best sparkles and tuxedos, 'cause there's a best-dressed contest, too.
RSVP info here
The Diamond | 43 Franklin St.
They'll be showing the awards on the projector, with free popcorn and snacks, REALLY awesome bottle specials, bingo/prediction pool with prizes, and the best beer bar in Brooklyn as your backdrop.
Facebook Event
Black Rabbit | 91 Greenpoint Ave.
The 'Rab will be offering free popcorn and the winning Oscar ballot wins a $20 bar tab!
Greenpoint Beer & Ale | 7 N 15th St.
They will be showing the Oscars on their big screen, and serving up bevs from their new cocktail list which includes two amazing hot toddies. Plus their brand new IPA cans Dankonia and Apply Formula will be available. Our kitchen will be serving everyone's favorites including our delicious loaded fries and giant pretzel which is great for sharing while you watch who wins the gold.
The Habitat | 988 Manhattan Ave.
Cozy Greenpoint staple The Habitat will be showing the Oscars, with sound. Snuggle up next to a craft beer and some of their epic mac n' cheese while you shout at the TV.
Huckleberry Bar | 588 Grand St.
I'd like to thank the Academy… for delicious cocktails. Huckleberry will be showing the Jimmy Fallon-hosted event starting at 8:30pm.