New Pizza Joint Sizzle Pie Opens Today On Graham Avenue!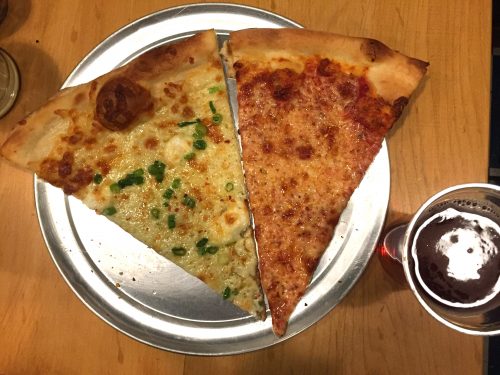 Most Brooklynites would probably consider themselves qualified to judge a slice of pizza—it's a skill we've all honed over years of hard New York living. When we take that first bite of cheezy 'za, we're able to make a detailed analysis in a matter of seconds: we subconsciously measure the thickness of the the slice, the crust's crispiness, the ratio of the sauce to grease to cheese. And whenever we travel outside of the city, we generally snub our noses at pizza from other places; it can't possibly be as good as a legit New York slice.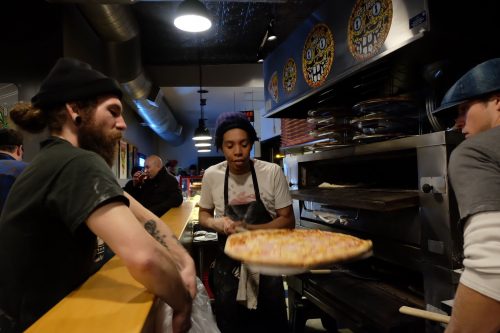 Now, pizza lovers will have another option to choose from on Graham Avenue that's going to challenge fans of Carmine's and Tony's. And if you can get over the fact that this pizza comes to us via Portland, Oregon, then Sizzle Pie (457 Graham Ave.) might become your new favorite neighborhood slice joint. Sizzle's got a variety of interesting pies (among others, The Gold Ring: white truffle, oil, goat cheese and green onion, and The Stolen Firebird: hatch green chiles, eggs, bacon and hashbrowns) as well as a wide range of vegan and gluten free options. And as far as we know, they're the only place where you're able to get a half slice—perfect for when you've already had two slices and want just a taste of another slice but don't want to feel over-the-top full. They're also serving beer and wine, and by summertime the back patio will be fully open and bumpin'. Check 'em out and decide for yourself who's got the best cheese slice—Carmine's, Tony's or the Portland wild card that is Sizzle.
Sizzle Pie | 457 Graham Avenue
11am-3am Sunday thru Thursday, 11am-4am Friday & Saturday
718-RAD-PIES