The Participatory Budgeting Results Are In!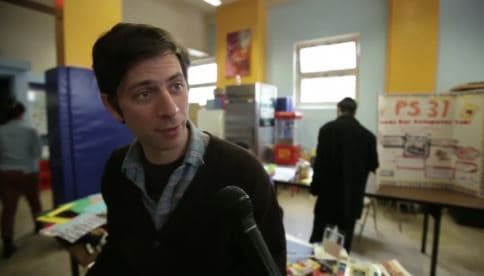 Earlier this spring, the office of Stephen Levin, Greenpoint's council member, provided the opportunity for residents to vote for how the district's money would be used for community projects during the upcoming year.
The results from the community vote are in! Below are the projects that District 33 chose. The ones directly affecting Greenpoint are in bold. As construction information unfolds, check back with Greenpointers for more details. All quotes courtesy of Stephen Levin's newsletter.
Essential STEM Labs IS 318 & PS 34
Funding: $500,000
Project: Funding STEM labs in underserved elementary schools in Greenpoint and Williamsburg.
Quote from I.S. 318 Teacher John Galvin: "The PB process energized our entire school community into collective effort. Our student government launched a 'get out the vote' campaign in the neighborhood and our parents and teachers led the charge in spreading the word about our project. As a result of the community engagement, students will enjoy access to two STEM labs that will increase access to the latest technology for over 2,000 students and allow both schools to prepare students for the newest careers in engineering and computer coding."
Make Our School Cool! MS 126
Funding: $400,000
Project: New air conditioning for the school
Quote from Sarah Wood, parent at M.S. 126: "The diverse and energetic population of kids and young adults in our building will no longer have to endure a sweltering cafeteria and classrooms! Thanks to PB, our teachers and students can focus on the more important endeavor of developing their intellectual, social and emotional educations. The diversion of hot and uncomfortable bodies will no longer impede their young curious minds!"
Finish the Upgrades w/PS261 Computer Carts
Funding: $140,000
Project: Provide four new computer carts for PS 261.
Quote from Kim Haden, parent at P.S. 261: "P.S. 261 is thrilled to have won funding for computer carts through Participatory Budgeting. Making computer education accessible to our kids 800 K-5 students helps us in preparing them to be productive members of the 21st century. We look forward to incorporating basic coding and programming into their curriculum and establishing a strong foundation in computer literacy."
Make Msgr. McGolrick Park safer by repaving sidewalks
Funding: $500,000
Project: Repaving the sidewalks along the park and replacing fencing. Current sidewalks are cracked, unsafe for children, and hazardous for wheelchair and stroller access.
Quote from Martha Holstein, McGolrick Park Neighborhood Alliance: "McGolrick Park is used by people of all ages, including the very young and old. Pedestrians, runners, dog walkers, disabled people (some in wheelchairs), and students going to and from nearby schools walk the perimeter sidewalks continuously. Over time, many of the sidewalk flags have cracked and broken and become unsafe for so much local use. The McGolrick Park Neighborhood Alliance (MPNA) is thrilled to have Council Member Stephen Levin's Participatory Budget funding allocated to the Department of Parks for some of the sidewalk repairs around the park. Council Member Levin has been a fierce supporter of many McGolrick Park improvements, and the community is grateful for the attention he has shown to the park and to MPNA."
Hear the Beat! Community Sound Studio
Funding: $100,000
Project: This project will outfit an existing computer lab as a recording studio, so youth/adults could be trained for music/audio professions.
Quote from Theresa Doherty, Deputy Director for Program, El Puente: "Over the past decade, Williamsburg has become an entertainment, artistic, and media hub, with creative industries now (re)shaping the dialogue of What is Brooklyn? It is fitting that, in Spanish, El Puente means 'the bridge.' We believe that this recording studio project will serve as a bridge, allowing us to provide equitable access for NYCHA residents to resources, facilities and training to enter the music/recording field, and in general, to a unique platform for creative expression."