The Lunch Counter: Where to Eat on the Southern Side of Greenpoint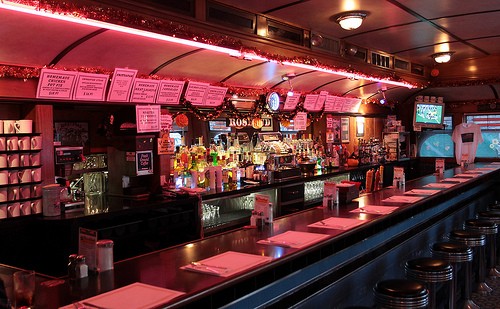 In the second part of The Lunch Counter series (part one was North Greenpoint), we explore the "glitzier" south side of Greenpoint. Given the proximity to Williamsburg, it's not surprising that the food scene follows some of the trends of our neighbors to the south. There are well-known chef-owners, brewers, local chains, vegan-only establishments and some traditional standbys.
From matcha to meat plates to mount qi pork sauce, there are lots of tempting meal options near Manhattan Avenue to lure you away from your coworking desk. Read on for your options after the jump.
Name: TØRST
Address: 615 Manhattan Ave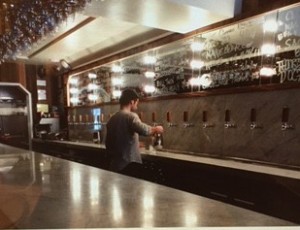 Cuisine: Danish/New Nordic
Specific lunch dishes and offerings: For those who don't know, this is the bar/restaurant from Jeppe Jarnit-Bjergsø, the brewer behind Evil Twin, and Noma alum Daniel Burns. At TØRST you can get a taste of the delicious dishes of Denmark's pub fare. The most popular items include a duck confit sandwich with spicy cabbage and pickled cucumber and the meat plate of cured ham and sausage with pickles and Danish rye bread. The bread (sourdough and rye bread) is baked in-house daily.
Drinks: Beer, 21 varieties on tap daily. As they saying goes something IS definitely rotten in the state of Denmark — and it's the beer. The bar's specialty is the sour, bitter, funky and tart flavors.
Lunch hours: 12 pm – 12 am
Average price range of entrees: $9 – $14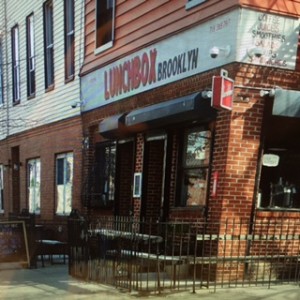 Name: Lunchbox Brooklyn
Address: 20 Norman Ave
Cuisine: American
Specific lunch dishes and offerings: Your local sandwich and bottle shop, this retro neighborhood "bric abrac" makes you feel at home in the 1980s. Vintage lunchboxes are on display and there's usually a copy of the day's New York Times on the front table for people to peruse while eating or waiting. Fresh soups are offered daily with options like carrot ginger barley or spring chicken potato spinach. Popular sandwiches include the Fox (buffalo chicken, fresh mozzarella, roasted red peppers, artichoke hearts, olive oil, balsamic vinegar, sea salt, seeded hero, pressed) or the Richardson (roast beef, brief, avocado, green apples, arugula, mayo on ciabatta bread). All the bread comes from Balthazar.
Drinks: Coffee from For Five Coffee, juices and smoothies. Lunchbox prides itself on having "weird, interesting craft beer," especially from local producers like Evil Twin Brewing and Grimm Artisanal Ales.
Lunch hours: 7 am – 10 pm
Average price range of entrees: $3.95 for soup, sandwiches $6.75 – $8.25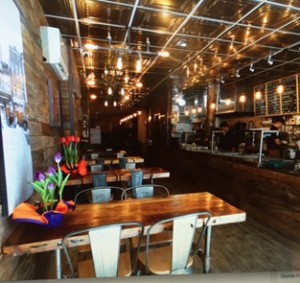 Name: Acai Berry
Address: 650 Manhattan Ave
Cuisine: American, Vegan
Specific lunch dishes and offerings: As the name implies, this place is oozing with superfoods and antioxidants. The menu features vegan sushi, acai bowls, salad, rice paper wraps and steam dishes of tofu and whey protein with vegetables. Frequently used ingredients include ginger, lemon, mint, turmeric and vegetables and fruits under the sun. It just opened the first week in March.
Drinks: 20+ varieties of fresh juice and smoothies.
Lunch hours: 10:30 am – 9:30pm
Average price range of entrees: $8 – &14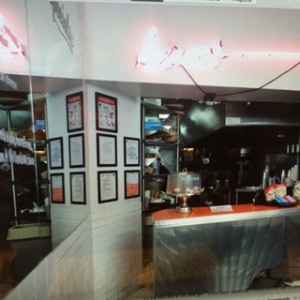 Name: Champs Junior
Address: 620 Manhattan Ave
Cuisine: American, vegan
Specific lunch dishes and offerings: For those who prefer salads to steaks or who don't give a ham, this small, four table vegan establishment is made for you. Popular items include the taco salad with romaine, shredded cabbage, shredded carrot, corn chip crumbles, chorizo and creamy chipotle dressing), the burger (made with beets, lettuce, tomato pickle, and chipotle mayo on a ciabatta bun) or the buffalo "chicken" (with soy protein, grilled onions, lettuce, tomato and ranch dressing on a hero.)
Drinks: Blue Sky Natural Sodas in a variety of flavors, including black cherry, orange cream, root beer and ginger ale.
Lunch hours: 10 am – 10 pm
Average price range of entrees: $6 – $10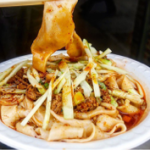 Name: Xian Famous Foods
Address: 648 Manhattan Ave
Cuisine: Western Chinese
Specific lunch dishes and offerings: This is the only Brooklyn outpost for the ever-popular NYC chain that's known for seasoning the moment with heavy doses of cumin, chili, Sichuan peppercorns and other spices. The full menu is available at lunch – featuring items such as spicy and tingly beef hand-ripped noodles, spicy cumin lamb hand-ripped noodles in soup, spicy cucumber salad, spicy & sour lamb dumplings, liang pi cold-skin noodles. Check the real-time store traffic meter on their website to get a sense of the wait time.
Drinks: Water, sodas, jasmine tea, sour, haw berry tea, apple sidra (a Taiwanese apple soda) and Wang Lao Ji herbal tea
Lunch hours: 12 pm – 9 pm
Average price range of entrees: $5.25 – $9.25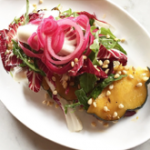 Name: Five Leaves
Address: 18 Bedford Ave
Cuisine: American and Australian comfort food
Specific lunch dishes and offerings: Yogi Berra might have been talking about Five Leaves when he famously said "nobody goes there anymore – it's too crowded." And so your only quick-in to this bustling eatery founded by the late Heath Ledger may be lunchtime midweek. The menu is the same as usual – with the crave worthy Five Leaves burger (grass-fed beef, fried pineapple, house pickled beets, harissa mayo and sunny side up egg with a choice of salad or fries) or the roasted duck pot pie with root vegetables, parsnip veloute, herbed crust and wilted brussel sprouts. You can also get their salads, daily soups or breakfast options such as home made granola or ricotta pancakes.
Drinks: Full bar, with cocktail specials like the Five Leaves Gimlet (St. George dry rye gin, lime, house cardamom bitters), Five Leaves Michelada (Modelo Especial, cayenne, tabasco, lime juice, Worcestershire, fresh ground pepper) or the Bloody Mary with their "famous" recipe.
Lunch hours: 8 am – 3:30 pm
Average price range of entrees: $4 – $20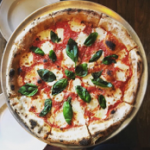 Name: Fornino
Address: 849 Manhattan Ave
Cuisine: Pizza
Specific lunch dishes and offerings: This wood-fired pizza place offers the "art & science" of pizza with three "generations" offerings. First generation pies are inspired by traditional Naples recipes. Second generation draws from the rest of Italy and third generation are more unique, NY-inspired options with ingredients like pine nuts, black winter truffle and gorgonzola dolce). The lunch special includes a salad (either caesar or arugula with
radicchio, pear, gorgonzola dolce, balsamic vinaigrette) and a small pizza. The lunch special pizza options include Marinara, Margherita Classica, Napoletana (tomato, mozzarella, anchovy, oregano), Monseze (tomato, mozzarella, fennel sausage, parmigiano), Melenzana (tomato, mozzarella, ricotta, eggplant, basil, parmigiano), Gorgonzola (mozzarella, gorgonzola dolce, caramelized onion, rosemary) or Funghi Misti (mozzarella, mixed wild mushroom, caciocavallo, white truffle oil).
Drinks: Wine or beer
Lunch hours: 12pm – 4pm
Average price range of entrees: $12 for the lunch special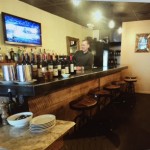 Name: Scalino GP
Address: 659 Manhattan Ave
Cuisine: Italian
Specific lunch dishes and offerings: This country comfort Italian spot offers fresh pasta and other straightforward fare from the boot-shaped peninsula. Popular items include the antipasto scalino (prosciutto, salami and parmigiano), fresh sardines, a full bronzino or a variety of house made pastas (taglierini with meat sauce, penne, broccoli di rapa and sausage or pappardelle with tomato cream and smoked bacon).
Drinks: Several Italian wines, beer, gin and vodka.
Lunch hours: 12 pm – 9:45 pm
Average price range of entrees: $10 pasta special with a salad, other meals $7 – $18
Name: Królewskie Jadło
Address: 646 Manhattan Avenue
Cuisine: Polish
Specific lunch dishes and offerings: The name means "King's Feast" and inside you'll see photos of Polish kings and replica suits of armor and swords to get you in the royal frame of mind. The lunch special includes soup (chicken noddle, tomato), main (chicken cutlet, pork cutlet, goulash, among other offerings) and dessert (homemade apple pie or warm chocolate cake).
Drinks: Full bar.
Lunch hours: 12 pm – 4 pm
Average price range of entrees: 3 course meal special for $9; regular menu $6 – $14.50