Northside Fest, Brooklyn Pride, and Comedians Who Care – What's Happening, Greenpoint? (6/10–6/16)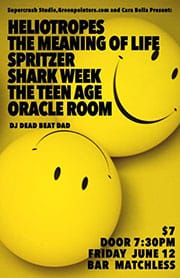 TICKET GIVEAWAY! ♫ Greenpointers, Supercrush Studios, and CaraBella Present a Northside Showcase @ Bar Matchless (557 Manhattan Ave) Friday (6/12) 8PM, With Heliotropes / The Meaning of Life / Spritzer / Shark Week / The Teen Age / Oracle Room / DJ Dead_Beat_Dad, Enter for a chance to win here.
There are more events in our weekly calendar. Submit Greenpoint events, too!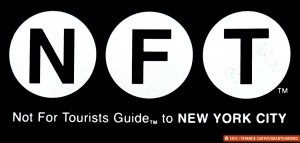 WEDNESDAY 6/10
^ Not for Tourists NYC Book Launch @ Word (126 Franklin St) 7pm, FREE, See NYC anew with expert explorers and authors Jane Pirone and Rob Tallia, More info
* Dancorcism Dance Party @ Lutheran Church of the Messiah (129 Russell St) 8pm, $15, A one-hour dance party for your soul, with high-energy dance routines, stretching, and meditation, More info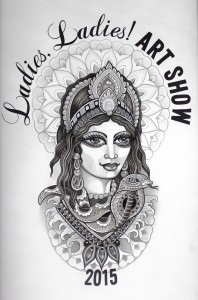 THURSDAY 6/11
* Quoits Tournament @ The Diamond (43 Franklin St) 6pm, $3, Come master the ring toss game that's the forerunner to horseshoes, More info
♫ Whatever Blog Northside Showcase @ Bar Matchless (557 Manhattan Ave) 7pm, $8, With Fiona Silver / Flying Pace / Cameron Orr / Batala NYC / Bulletproof Stockings, More info
♦ Ladies, Ladies! Art Show @ Forget Me Not Tattoo (231 Norman Ave) 7pm, FREE, Art by lady tattooers, curated by lady tattooers, More info
♫ Experimental Noise Northside Showcase @ Aviv (496 Morgan Ave) 8pm, $10, With Excepter / White Suns / Baby Birds Don't Drink Milk / Mezzanine Swimmers / Lutkie, Buy tix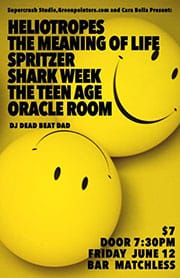 FRIDAY 6/12
* New Voices in Live Performance @ Center for Performance Research (361 Manhattan Ave) 7pm, $10, Showcasing emerging voices in live performance and promoting awareness and appreciation of contemporary experimental work, More info
♫ Greenpointers Northside Showcase @ Bar Matchless (557 Manhattan Ave) 8pm, $7, With Heliotropes / The Meaning of Life / Spritzer / Shark Week / The Teen Age / Oracle Room / DJ Dead_Beat_Dad, More info
♫ Soundpainting Festival @ Firehouse Space (246 Frost St) 8pm, $10, With Brooklyn Soundpainting Ensemble / Strike Anywhere Performance Ensemble / Walter Thompson Orchestra, More info
♫ El Goodo Northside Showcase @ The Gutter (200 North 14th St) 8pm, FREE, With Dead Stars / Slonk Donkerson / Crazy Pills / Bodega Bay / Bluffing / No Ice, RSVP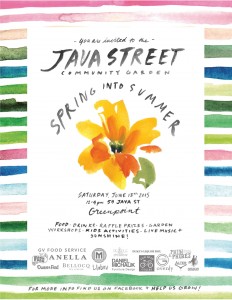 SATURDAY 6/13
* Educational Paddle @ North Brooklyn Boat Club (49 Ash St) 10am, FREE, About two hours on land and on the creek, beginning with a tour of the Club's aquariums and exhibits and including education talks, birdwatching, and possible visits to the Newtown Creek Alliance's "living dock," More info
* Spring into Summer @ Java St Community Garden (59 Java St) 12pm, FREE, An afternoon of food, drinks, raffle prizes, garden workshops, kids activities, live music, and sunshine, RSVP
* Make Your Skin Clean, Calm, and Happy @ Brooklyn Groove (102B Nassau Ave) 2pm, FREE, Adina Grigore, skin expert and founder of organic cosmetics line S.W.Basics, will sign her new book Skin Cleanse and talk about simplifying and switching to all- natural routine, More info
* Obscura Society Presents the Art of Taxidermy @ Acme Studio (63 North 3rd St) 7pm, $25, A talk by Allis Markham, the founder of eco-friendly taxidermy studio Prey and one of the premiere taxidermists in the country, More info
♫ We Are Brooklyn Pride @ Verboten (54 North 11th St) 10pm, $20, Dance to the sounds of DJ Sveta / Whitney Day / Amber Valentine / DJ M.O. / Robi D Light / Colby b, RSVP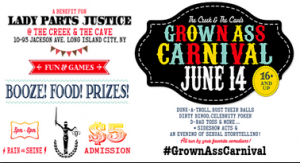 SUNDAY 6/14
♫ Muchmore's 3-Year Anniversary Northside Showcase @ Muchmore's (2 Havemeyer St) 11:30am, $5, An all-day festival with 15+ bands including Secret Nudist Friends / Elizabeth Devlin / Cosmonaut / Starlight Girls / The Brooklyn What / Brooke Pridemore, RSVP
* Styling Your Brand Workshop @ Susty Party (67 West St) 12pm, $100, This four-hour workshop teaches female founders to use the power of a strong video to enhance brand awareness, attract new customers, and engage your current audience, More info
* Lady Parts Justice Grown-Ass Carnival @ The Creek & the Cave (10-93 Jackson Ave) 3pm, $5, Indulge in Mexican food and margarita snow cones while playing adult bingo and "bust their balls" darts, and watching sideshow acts, RSVP
^ At Night I Get What I Want @ Sunview Luncheonette (221 Nassau Ave) 7pm, FREE, A book release party celebrating new poetry by Lisa Ciccarello and S. Whitney Holmes, RSVP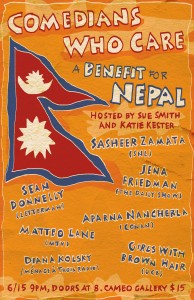 MONDAY 6/15
☺ Comedians Who Care: A Benefit for Nepal @ Cameo Gallery (93 North 6th St) 8pm, $15, Featuring Sasheer Zamata / Jena Friedman / Sean Donnelly / Aparna Nancherla / Matteo Lane / Girls with Brown Hair / Diana Kolsky, Buy tix
* CiNETRIP Presents: Three Women @ Standard Toykraft (722 Metropolitan Ave) 8pm, $8, The first series of shows put on by the London based avant-garde duo the CiNETRIP, More info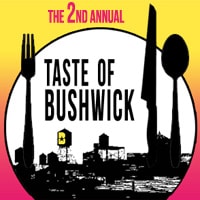 TUESDAY 6/16
# 2nd Annual Taste of Bushwick @ Boar's Head Distribution Plant (24 Rock St) 6:30pm, $35, An annual food party celebrating the eats, drinks, and merriments of Bushwick, to benefit the Bushwick Starr, Buy tix
* The Mx. Bushwick Burlesque Pageant @ Bizarre Bar (12 Jefferson St) 9pm, $7 to $20 suggested, Featuring 10 contestants who stand out as reliable masterminds of the absurdest cabaret, RSVP
* Greenpointers Pick
♫ Music
^ Literary Event
♦ Art Event
☺ Comedy Event
# Foodie Event
♥ Pheremones Likely