There are more events in our weekly calendar. Submit Greenpoint events, too!
WEDNESDAY 4/27
♫ Soul Slam: Prince Tribute Edition @ Good Room (98 Meserole Ave) 7pm, FREE, Prince & the Revolution "Around the World in a Day" presentation by DJ Ron Like Hell and DJ Spinna, RSVP
* Wilkommen Deep House Yoga @ Verboten (54 North 11th St) 8:30pm, $20, A weekly yoga class series accompanied by soothing deep house music, Buy tix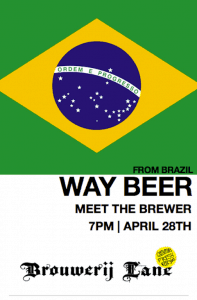 THURSDAY 4/28
# Food Book Fair Kick-Off Party @ Achilles Heel (180 West St) 6pm, FREE, Food, drink and magazine specials available for purchase, More info
* Way Beer Night @ Brouwerij Lane (78 Greenpoint Ave) 7pm, FREE, Meet Alejandro Winocur (partner/brewer of Way Beer) and drink some beers straight from Brazil, RSVP
* Kevin Geeks Out About the Devil @ Nitehawk Cinema (136 Metropolitan Ave) 9:30pm, $15, A video variety show filled with Satanic Panic, deals with the Devil, and Satanimation in 80s cartoons, More info

Category:
What's Happening?
Tags:

achilles heel, Brooklyn Bowl, brouwerij lane, Center for Performance Research, Cloud City, good room, java studios, knitting factory, Muchmore's, national sawdust, nitehawk cinema, Standard Toykraft, the ark, the boiler, Verboten, WORD bookstore, wythe hotel
2 Comments