Holiday & Apocalypse Parties, Girl Power, Krampus, Free Beer For High Schoolers, Dim Sum & Xmaslites Ride: What's Happening Greenpoint? (12/19-12/23)
Reality check: it's the week before Christmas! Get some last minute (local) shopping done and do something festive-y (or not) with your friends before you skip town or have a major staycation!
There are more events in our weekly calendar. Submit Greenpoint events, too!
For all more Brooklyn Holiday Markets, click here.
WEDNESDAY 12/19

♦No Wave Performance Task Force Presents "Women's Group" @ Vaudeville Park (26 Bushwick Ave) 7:30pm, Conceptual open house, all welcome to perform or provide audience/response, purpose is to brainstorm, share work and party before Christmas! More Info
•Poker Philanthropy @ T.B.D (224 Franklin St) 7:45pm, Support Wounded Warrior Project, whose mission is to honor and empower wounded veterans. RSVP to pokerphilanthropy (AT) gmail.com
•Mexi-Christmas Movie @ La Gringa Taqueria (800 Grand St) 8pm, FREE screening of "National Lampoon's Christmas Vacation" underneath an army tent out with wood-burning stove, large-format movie screen, free Mexican hot chocolate and cookies, RSVP: 718-640-0500
THURSDAY 12/20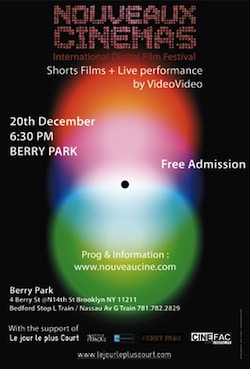 •Krampus Party @ Brouwerij Lane (78 Greenpoint Ave) 6-10pm, More Info
*Nouveaux Cinemas Film Festival @ Berry Park (4 Berry St) 6:30-8:30pm, FREE, Screening of short films and a live concert by VideoVideo, More Info
*Drink for a cause @ Exley (1 Jackson St) 7-9pm, $5, Brooklyn Kickball & The Automotive Highschool bring you a night of Free Beer and Holiday Cheer benefiting the Williamsburg Automotive HS,  RSVP
*The No Office Holiday Party @ Littlefield (622 Degraw St, Gowanus) 8pm, $6, Wyatt Cenac Stand-up set, inappropriate photo opps in Hot Santa photobooth, dancing, spiked punch, More Info
FRIDAY 12/21 – APOCALYPSE!!!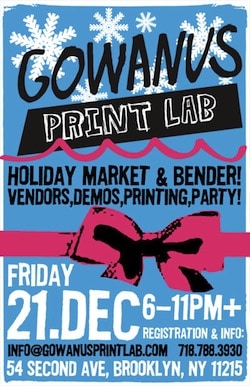 • Holiday Market + Bender @ Gowanus Print Lab (54 Second Ave) 6-11pm, Local artisans present their wares and works plus custom gift wrap, booze, music, screen printing, More Info
♫ Apocalypse Party @ 285 Kent Ave, 8pm, $8, Music by Prince Rama / Dickpic /Ami Dand, All Ages, RSVP
♫ Karaoke to the End! @ Connie O's (158 Norman Ave) 10pm, apocalyptic holiday buddy-hang at Greenpoint's best drive bar! RSVP
♫ End of The World Party @ Glasslands (289 Kent Ave) 11:30pm, $10, Music by Peter Hadar & Funkbot, DJ's, cheap drinks, Buy Tix
♫ Apocalypse Party @ Cameo Gallery (93 N 6th St) 11:55pm, $15, French electro-jazz electronic experimentalist, Joakim curates a soundtrack to end all and NYC disco king, Jacques Renault takes the stage, RSVP
SATURDAY 12/22
• The Little Top Circus & Medicine Show @ Union Hall (702 Union St, Park Slope) 8:30pm-midnight, Sermons, snake oil, magic, feats of strength, burlesque, geekery and jazz so hot you'll swear you smell brimstone. RSVP

SUNDAY 12/23
•A Christmas Story @ Nitehawk Cinema (136 Metropolitan Ave) noon, $11, instead of watching it on TV, see it on the big screen!  More Info
♦Holiday Party + 1- Year Anniversary @ Storefront Bushwick (16 Wilson Ave) 4-6pm, curated by David Harper. RSVP
♥ Xmaslites in Dyker Heights and Dim Sum @ City Hall (131 Duane St, NYC) 12:30pm, Five Borough Bicycle Club (5BBC) combines two Christmas traditions—colorful lights and Chinese food—on this 20 mil. group ride. More Info
* Greenpointers' Pick
♫ Music
♥ Pheremones likely
♦ Art Event