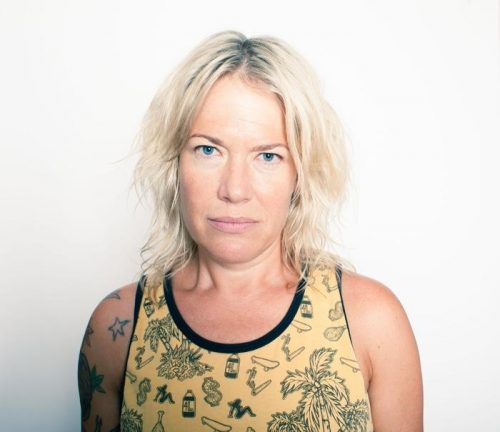 Given the constant deluge of disheartening headlines this year, we could all use a laugh, couldn't we? Tara Jepsen, author of the newly released novel, Like a Dog (City Lights Publishers), plans to provide just that in conversation with Beth Lisick at WORD bookstore (126 Franklin St) today (December 5th) at 7pm.
"Even when we're not living under a kleptocracy like we are now, my gift and what I always want to do is give people a soul-soothing moment," Tara said. "I just hope to give people a little relief and make them laugh."
Tara is an LA-based writer, actor, sketch comedian, and rad feminist skateboarder who has appeared on the Emmy-award winning series Transparent. She and Lisick have been collaborating on comedy projects together since 1999, including their original web series Rods and Cones, released by Jill Solloway on Wifey.tv, and their queer cabaret Sister Spit. Tara also, alongside Miriam Klein-Stahl, illustrator of the Rad Women book series, co-founded queer skateboard brand Pave the Way Skateboards. Despite years of writing short stories and comedy, Like a Dog is Tara's debut novel.
"I thought since I was a little kid that I would be a novelist. When I was on tour with Sister Spit in the 90s I just started farting around and writing stories," she said. "I'm a total fucking ham and always have been, so this just seemed like the natural evolution of what I've been doing."