Several weeks ago, disturbing news of a sexual assault that allegedly occurred on Sutton St. near McGolrick Park broke on social media and rattled the Greenpoint Community.
The assault allegedly occurred around 2am on September 13, two blocks east of McGolrick Park. According to a post that was shared extensively on Facebook, a 34 year-old woman was walking to a deli on Sutton between Driggs and Nassau when she was attacked and raped by a group of teenagers, suffering serious injuries including a knife wound to the neck.
The social media reports of the incident shook the traditionally peaceful area of Greenpoint surrounding McGolrick Park and prompted local activist Emily Gallagher and Park Church Pastor Amy Kienzle to organize the Greenpoint Task Force, a coalition with regular meetings for concerned community members.
The first of these meetings occurred Thursday, September 22 in the basement of the Park Church Co-op. It was attended by nearly 100 members of the community, as well as several representatives of the 94th Precinct, including Captain Stefan Komar, Community Affairs Specialist Norberto Rivera, and Special Operations Lieutenant Matthew Delaney.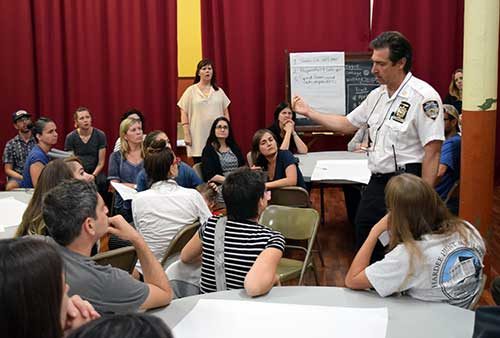 During the course of the meeting, citizens asked questions of the police regarding the alleged sexual assault. What they were told was frustrating, as Captain Komar recounted several inconsistencies and roadblocks in what had been reported to police. Continue reading →