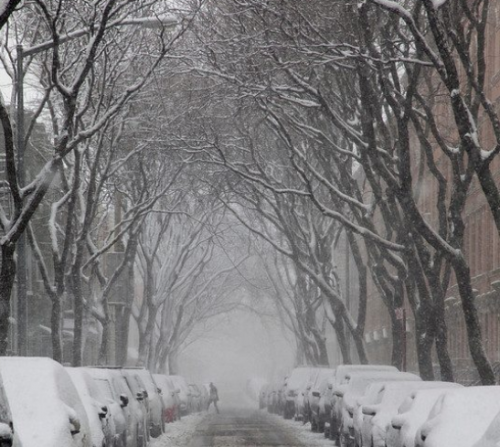 Perhaps other blocks in Greenpoint have more elegant houses or more imposing churches, but no block has more beautiful trees than Guernsey Street, which runs parallel to the river between McCarren Park, on its southern end, and Oak Street at its northern tip. The block between Meserole and Norman Avenues has the most dramatic tree canopy in our area. The street is towered over by forest-scaled locust trees that create a leafy roof – a delightful respite from the blazing sun on steamy summer days.
The area was once home to the Meserole orchard, where fruit trees thrived in the rich wet soil that has also allowed these atmospheric locusts to create a tunnel of leaves, whose shade makes entering the block feel like stepping indoors from outdoors. The green ceiling of the locusts alters the light and tricks you into believing that you have stepped indoors. The west side of the street in particular, with its high flat brick buildings, creates the perfect backdrop for the magic of the subdued light, which gives the block its surreal, indoor quality.
In March of 2003, a New York Times reporter filed a story on the residents of the street and perfectly captured the block's unique verdant beauty:
"In a landscape of warehouses and factories, this block of Brooklyn seems to appear out of nowhere like a magical wood in a fairytale. Graceful 19th-century apartment buildings, some with bay windows are guarded by towering honey locust trees that in a few weeks will form a lush green canopy."
The trees are so atmospheric that it is hard to imagine that they were not always there, but people who grew up in the 1960s on the block and returned decades later are often shocked by the change the locusts have made. Artist Tim Doyle perfectly captured the feel of the green shade trees in the painting below: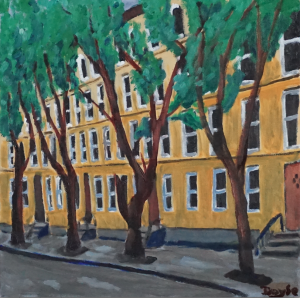 The Times correspondent also called Guernsey Street "the archetypical American block," but I disagree because there is nothing else locally quite like it and the street also has a unique history. The Southside of the street was a for many years open land, known to locals as "Paddy Floods lots." The Eckford baseball team practiced there for a time before the Civil War, but the area's development forced them out. When Grover Cleveland ran for president, his likeness was outlined in fireworks and ignited, much to the delight of local Democrats. A trestle once ran from these lots to the Southside, but it was long ago demolished. Around the 1920s, tawdry clapboard wood-frame four-story apartments were built, their flimsiness standing in marked contrast to the solid brick structures just across the street.