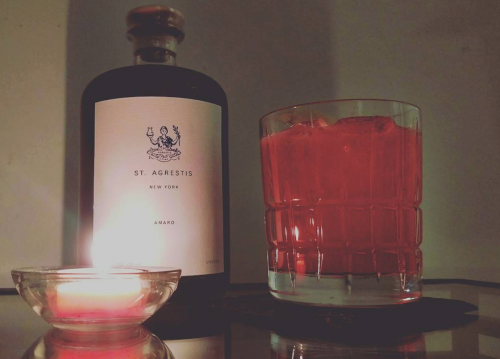 One morning at the McGolrick Park Farmer's Market last Fall, I had the opportunity to taste a spirit I didn't know much about. Though, coming from a half-Italian family, I was not a complete stranger to amaro. And living in a bar culture like Brooklyn's, the spirit turns up every now and then too.
But both encounters were prohibitive. Being a kid at family parties, trying something red in color, you want it to taste a certain way (like Dr. Pepper). Amaro got quickly filed under "gross" and "adult," which I filed under "boring." And today, going to a fancy bar, the prospect of a sixteen dollar cocktail sometimes has me looking for the beer list, specifically "cans."
So, running into the Greenpoint-made amaro brand St. Agrestis on that Sunday in the park cut through my personal red tape.
First off, the label is eye-catching: a simple blue print of a woman holding a branch in one hand, and a small medicine bottle in the other. Then there's the name. How, after twelve years of Catholic school, did I not know of a St. Agrestis (it turns out St. Agrestis is not real!)? Then there's the color. It's a deep shade of red, not quite letting you see all the way through the bottle, but sort of half-way through.
The whole package was intriguing, as was the flavor. Which is on the right side of bitter, and the right side of sweet— it sort of approaches both, and pulls away just before either becomes too much. In any case, I felt it was cause enough to buy a bottle and to later follow up with its maker, Louis Catizone, to find out how this mysterious alcool is made. Continue reading →