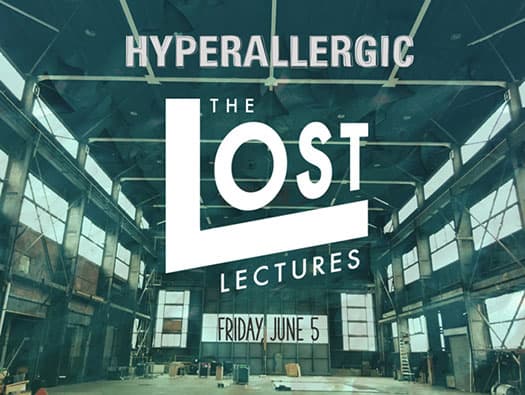 Join Brooklyn art blogazine Hyperallergic and UK's unoffical speakeasy of the lecture world The Lost Lectures for the second installment of Lost Lectures NY on JUNE 5TH!
A secret venue in Brooklyn will be taken over for an immersive night of never-before-seen talks and performances. The evening includes:
Blonde Redhead's Kazu Makino will be surprising the crowd with never before seen material (it's even a secret to us)
one of the world's leading gonzo journalists Jon Ronson, who is best known for his investigation into public shaming, will be unveiling his new project
indie filmmaker Josephine Decker will be doing a top secret performance
NYC busker-turned-activist Andrew Kalleen will be bringing a troupe of street musicians for a show-stopping performance
internationally renowned visual artist Diana Al-Hadid will discuss her work and its visual influences
poet, novelist, and artist Tao Lin, who has just published a new book, Selected Tweets, with poet Mira Gonzalez, will surely generate discussion, and
urban explorer Steve Duncan will share the secrets of the city's underground.
Category:

Events, Sponsored, Uncategorized
Tags:

andrew kalleen, blonde redhead, Brooklyn Brewery, Butter & Scotch, diana al-hadid, discount code, hyperallergic, jon ronson, josephine decker, kazu makino, lost lectures, Moleskine, rekorderlig, secret event, secret location, speakeasy, Spinlister, steve duncan, tao lin, transportation alternatives, ZIA Green Chile Company, ZICO Coconut Water
0 Comments