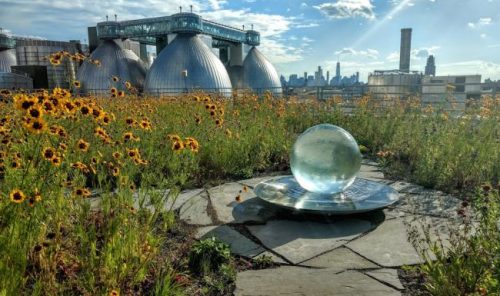 What qualifies art is hard to pin down, but just as slippery is qualifying what houses the art. Galleries take many shapes and forms, and Northern Brooklyn is heavily peppered with such diverse institutions ranging from warehouses and studios to parks and piers. Greenpoint Open Studios is a few short weeks away (June 2–3), and some of the featured artists may not be in the usual spaces. As is our annual tradition, we proudly offer you our guide to 2018's Unusual Spaces.
Kingsland Wildflowers | 520 Kingsland Avenue
Saturday, June 2 | 1-8PM
Sunday, June 3 | 12-4PM
This secluded rooftop park in northwest Greenpoint along Newtown Creek will be showcasing the work of several artists. Kill two birds with one stone: explore an untouched area in the nabe and support local art. Not convinced? You can also check out artwork and chill out on Kingsland Wildflowers' gorgeous green roof for a relaxing afternoon of sketching, drinking and watching the sun set over Manhattan.