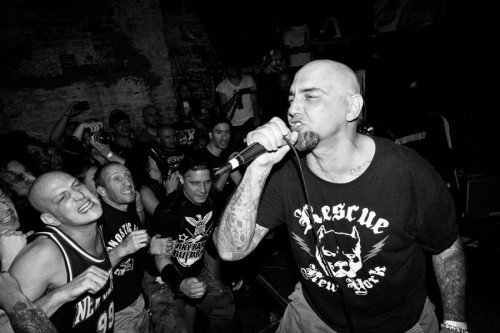 Veteran hardcore punk bands are an odd thing. I'm thinking about the bands you listened to twenty years ago. The ones where you see their name in the concert listings and think, "They're still around?"
Those type of bands are just not mainstream enough to land endorsement deals, multi-album recording contracts, or other obvious means of sustainability. It's almost as if the doggedness and passion of their music carries them through hard years on the road.
Murphy's Law, the hardcore band formed in 1982, pulls into The Grand Victory tonight (6/24) with just one remaining original member, but with the gravitas of a cultural mainstay. They've appeared in one of artist Matthew Barney's Cremaster movies, and been featured in both Grand Theft Auto IV and Backyard Wrestling 2.
In another generational disconnect, Greenpoint metal institution St. Vitus puts on its grown-up clothes this weekend and hosts, of all things, a metal-themed flea market during the daytime. It's your chance to engage in a little friendly haggling over the price of a replica blood-stained corpse. DJ Hellspell will establish the ambience.
Continue reading →