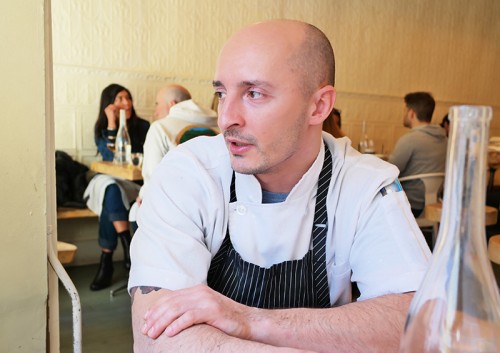 For our second piece in the Behind the Toque series (we last profiled Chef Eldad of Glasserie), we popped over to Selamat Pagi for a sunny Sunday brunch and chatted with Executive Chef Chef Mateusz (Matt) Wlodarski. Over a Bali Bowl and glass of rose, we talked experimentation, the exciting seasonal changes on the horizon, and the menu's newest sambal, the recipe for which he shares below.
Selamat Pagi (pronounced "Sell-a-maht Pah-gee" and meaning "Good Morning" in Balinese) is the Indonesian brainchild of Peter and Ben Van Leeuwen and Laura O'Neill, also co-founders of Van Leeuwen Artisan Ice Cream. Similar to Van Leeuwen, Selamat Pagi is a harbinger of creativity and a playful, exploratory take on an alt cuisine (for our neighborhood at least) that nails it every time.
Don't be fooled by the small, quaint space, and its unassuming location right off McGolrick Park. Each dish on the menu is beautifully constructed, a nuanced layering of Southeast Asian ingredients into modern renditions of Balinese classics.