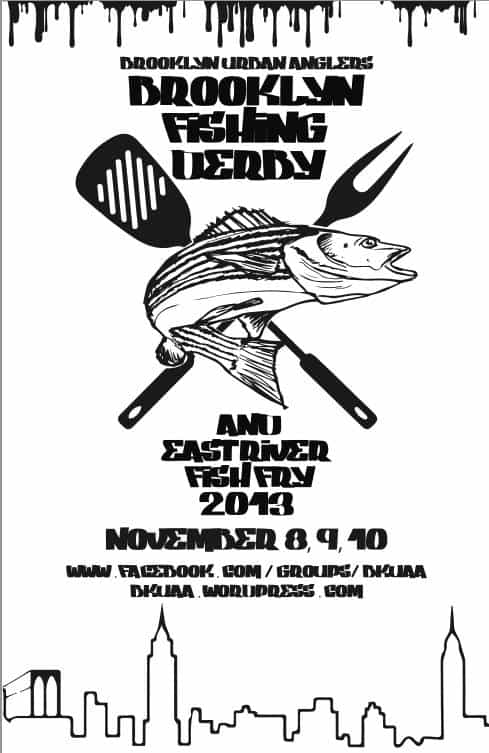 When you think about Brooklyn life, fishing may not be the first thing that comes to mind..for most people, that is. Ben Sargent, a.k.a. theBrooklyn Chowder Surfer, and fellow members of the Brooklyn Urban Anglers Association are proving that city fishing is pretty bad ass. You can find out yourself at the Brooklyn Fishing Derby, which starts tomorrow (11/8) and runs through the weekend, culminating in the ultimate fish fry cookout on Sunday.
If you're still skeptical, just check out this video from the 2010 derby. You'll see this rag tag band of fisherman (and women) climbing under fences, scaling the rocky shores of the East River, and proudly displaying their trophies.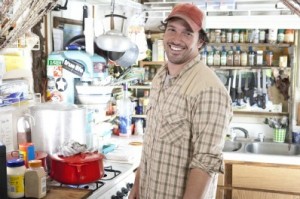 Ben Sargent is no stranger to the foodie/fishing world. He's appeared on the food network with Bobby Flay, opened  Surf Bar, right here in Williamsburg, and is the host of Catch IT, Cook IT, & Eat IT on Bushwick's Heritage Radio Network (run out of Roberta's).  Veteran Greenpointers might also remember him as the guy who made (questionably legal, but super delicious) lobster rolls to-go out of his basement apartment, which he dubbed The Underground Lobster Pound (until he was shut down by the Board of Health). His alter ego, Doktor Klaw, could be found, as Jen Galatioto described, "delivering lobster rolls in his tricked out truck with a huge ass gold lobster claw hanging around his neck."
This is actually the 5th year that Sargent has thrown the derby, which he founded after opening his first restaurant in the neighborhood in 2001. He explained that when it first began, he and his friends decided to throw a Brooklyn fishing competition as a joke, but it quickly became more serious, with hefty cash prizes and professional fisherman stepping up to the challenge. This year, though, the goal is more democratic–to bring the craft of fishing back to the community and encourage newbies to give it a whirl.