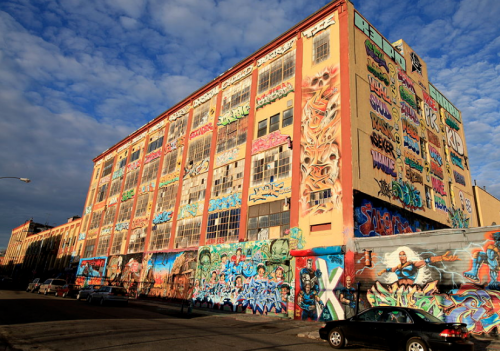 Just across Newtown Creek in Long Island City stood an abandoned industrial site that many considered the world's greatest treasury of graffiti art. Tragically demolished in 2013, the world-famous Five Pointz consisted of twelve factory buildings ranging in height from a single story to five floors. The name Five Pointz referred both to the five boroughs of New York City and to the notorious 19th century Manhattan slum of the same name. Five Pointz grew so famous that tourists from around the world journeyed to Long Island City to photograph the amazing examples of graffiti art that adorned its many exterior walls, but the famous complex would not have a long life and would die a tragic death.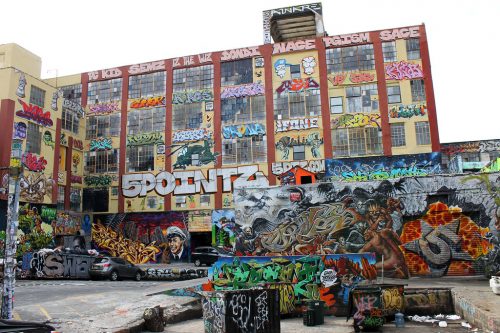 Located at 45–46 Davis Street, the buildings, which were constructed in 1892, once housed a water meter factory, but the water meter plant was long by the early 1970s when developer Jerry Wolkoff bought the abandoned factory and leased space inside to industrial firms. In 1990, hungry for new tenants, Wolkoff granted permission for artists to cover the exterior walls with art and by the 1990s artists attracted to the area by the low rents began to rent interior spaces in the building. Soon, aerosol artists began to cover the exterior walls with their colorful and creative murals. Initially called the Phun Factory, the building was renamed "5 Pointz" in 2002 when graffiti artist Jonathan Cohen began curating the exterior murals. The murals' fame spread and Cohen even conceived plans to turn the huge complex into a museum of graffiti art. The former industrial complex attracted elite aerosol artists who arrived from all over the United States and even around the world, including famous graffiti artists such as Stay High 149, Tracy 168, Part, SPE, Dan Plasma, CORTES and TATS CRU.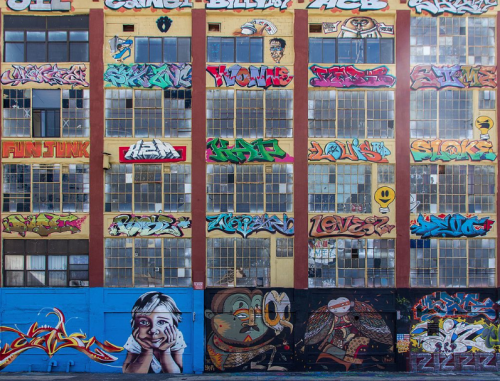 While Five Pointz fame was spreading around the globe, Long Island City was also changing. Due to its proximity to Manhattan, the area started to become a magnet for high-rise residential towers and Wolkoff became increasingly aware of his site's multi-million dollar real estate value.