Newtown Creek is Getting a New Living Dock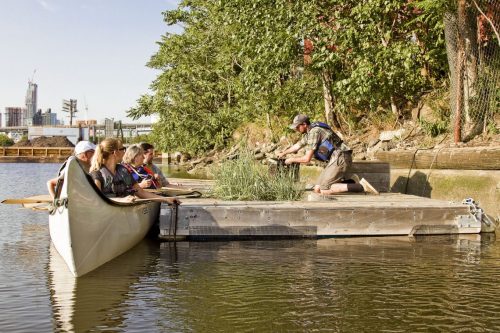 Do you feel alive, Greenpoint? Well, the valiant conservationists at Newtown Creek Alliance certainly do. The good folks at NCA have announced plans for a second Living Dock in Newtown Creek. The Living Dock is a "floating structure designed to provide valuable marine habitat within a heavy polluted and largely bulkheaded waterway."
The original Living Dock was installed here in Greenpoint at the North Henry Street Public Basin in 2015, and its brand-new sister dock will be built this month and installed in the English Kills tributary of the creek. 
Then, the good stuff starts. According to NCA, "Once installed, the dock will be planted with native salt marsh grasses and habitat suitable for bivalves, small fish and crustaceans. NCA will monitor the progress of the new dock, comparing plant growth and wildlife activity to the existing dock."
Pretty beautiful, right? Then perhaps its fitting that the project is being funded by Lush Charity Pot.
Check out NCA social media for updates on the progress of the New Living Dock!