Soup Takedown & National Popcorn Day This Weekend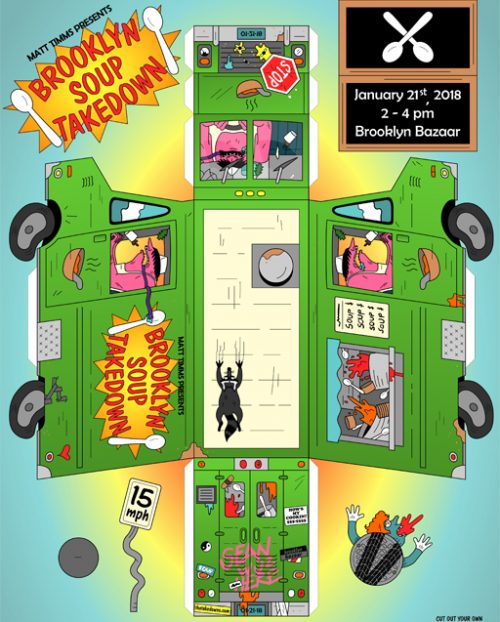 The very famous, Greenpoint-borne food competition, The Takedowns, is back again this weekend at Brooklyn Bazaar (150 Greenpoint Ave). This month, about 20 home cooks will battle it out over warming pots of soup. Up for grabs are a plethora of prizes from Anolon, Cuisinart, Microplane and Wüsthof, plus, of course, the glory of making the best soup in Brooklyn. It's all you can eat until the soup's all done and only $20/person. Yours truly will be on hand to judge with criteria including creativity and replicability. It all goes down this Sunday, from 2pm – 4pm. Get your tickets here.
Nitehawk, Williamsburg's OG dinner-and-a-movie cinema is celebrating National Popcorn Day this Friday by bringing back The Vince: Popcorn with truffle butter, Sriracha sauce, chipotle, lime, and citric salt. You can also get in on their current Pizza Popcorn made with truffle butter, Parmesan, oregano, and crispy pepperoni while watching Phantom Thread. The next big delicious food holiday on their celebration calendar is Tater Tots Day on Friday, February 2nd. For that, they will be reprising "Tots on Repeat" ($10) where you can flag down your server for a second round of the tots special once you've gone through the first. "Wild at Heart" is the night's midnight special if you need more incentive.
Grand Republic Cocktail Club has finally opened at 19 Greenpoint Ave (next to 21 Greenpoint). The craft cocktail menu is separated into two categories: "Show Some Respect" and "The New Frontier." The former is where you'll find twists on beloved classics while the latter is where the owner, Johnney Swet, and his bartenders can experiment with flavor profiles and infusion. Drinks at the maritime-themed, a stone's throw from the East River, will run you a normal $13 – $14. They're open every day, 5pm – 2am. [Bklyner]