Amazing Photos of the Domino Sugar Refinery on Display Until January 14th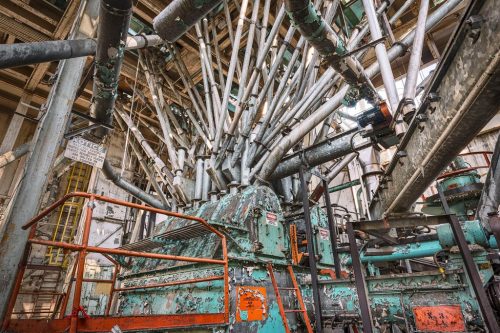 There's been a lot of activity and news lately about the iconic Domino Sugar Factory on the Williamsburg waterfront. Our own historical writer Geoff Cobb recently published a new book about Domino titled The Rise and Fall of the Sugar King, and he's been sharing some of those stories here on our site. Additionally, the redesign proposal for the Domino site was recently approved, and the architects shared the final plans for the waterfront park. And just a few weeks ago we were able to tour the first new building in the Domino Sugar complex at 325 Kent Street, with the major selling point seeming to be the stunning views of Manhattan and the Williamsburg Bridge.
From now until January 14th, photos taken inside the Domino Sugar complex are on view at former Williamsburg gallery Front Room (48 Hester Street) in Manhattan. According to the gallery, "In 2013, Paul Raphaelson received permission from the developers of the Domino site to explore every square foot of the refinery just weeks before its gutting and demolition. Raphaelson is the last photographer given access to the factory." The gallery is open Wednesday through Sunday from 1-6pm. Smithsonian has a detailed article about the photos, and the site's history.