McGolrick Playground Closing: Temporary Playspaces Meeting Tonight (7/6)!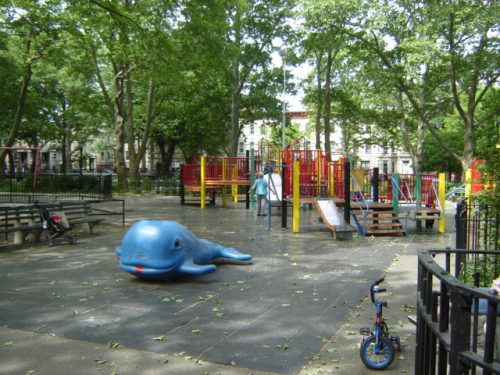 The playground at McGolrick Park will be closing later in the year year for improvements, which will include new equipment, surfaces and landscaping. The funding source for the repairs is our district's Participatory Budgeting, as well as Mayoral and Borough President funds (in total, $1-3 million). Construction is expected to take 12-18 months, and you can follow the project's progress on the NYC Parks site.
Tonight, the McGolrick Park Neighborhood Alliance is hosting a community meeting to get input on alternative play spaces and family-friendly activities during the playground closure. Because the Greenpoint Library is also closed right now, it's important to find more ways to keep Greenpoint kids active and occupied.
What: Temporary Playground Meeting
When: Thursday, July 6, 2017, at 6:30pm
Where: Park Church Co-Op, 129 Russell St