Do You Love Karaoke? Brooklyn Bazaar is Hiring A Karaoke Manager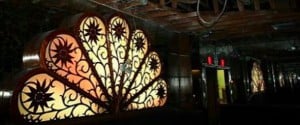 New/revamped Greenpoint venue Brooklyn Bazaar (150 Greenpoint Avenue) is opening up inside former event hall Polonaise Terrace in just a couple weeks, kicking off on September 9th with a Clap Your Hands Say Yeah show. We've been lucky enough to see the space ahead of time, and it's quite impressive. They plan to keep as much of the original vintage decor as possible for a classy retro vibe. The top floor boasts a large concert space, and the ground floor has a restaurant (which will be catered by delicious Brooklyn Star) and another stage area where they'll host film screenings, speakers and comedy shows. The basement level is where it's at, though. They've got four private karaoke rooms, an arcade with mini golf and ping pong, and a DJ dance party room. They're currently hiring for a Karaoke Manager, so if you've got a bubbly people-friendly personality, this may be the gig for you. Contact [email protected] to throw your mic in the ring.
Also, we should note that they're currently taking karaoke reservations online, so book now 'cause that's gonna get filled up fast.