Greenpoint Summer Fashion Roundup
Summer is officially here and after that hella winter, we best greet this long-awaited season in style. Welcome back, sun, sweat, and subway tunnels that smell and feel like the depths of Hell!
Kidding! More like, welcome back bike rides and outdoor brunch and tan lines!
With the abundance of shopping Greenpoint provides, it won't be hard to coordinate the perfect outfit for that afternoon spent in Transmitter Park, your friend's rooftop BBQ next weekend, or for your morning commute walking across the Pulaski while cursing the G train in a few weeks. Here are a few outfit options and some summer essentials courtesy of our awesome neighborhood to make the warm months even sweeter: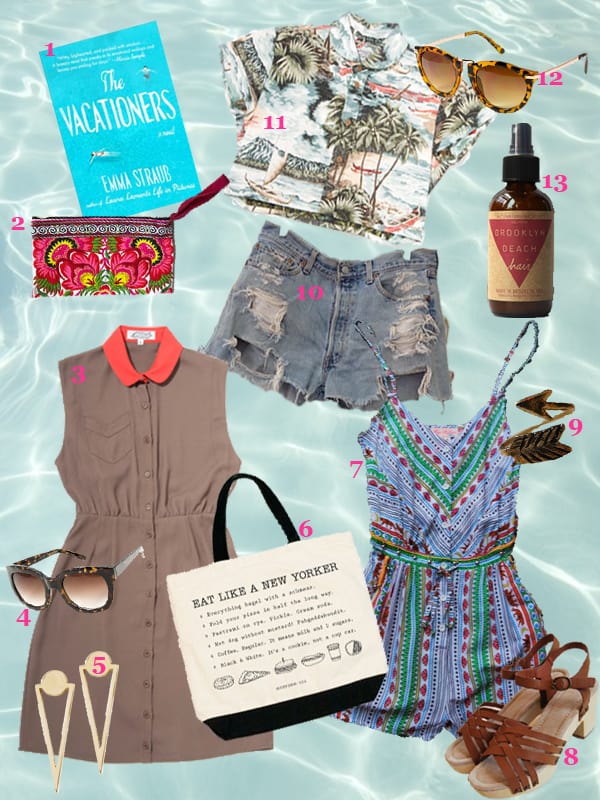 1. "The Vacationers" by Emma Straub via WORD ($26.95)
2. Clutch by A Mano Fair Trade via People of 2morrow ($38)
3. Cocoa Shimmy Dress via In God We Trust ($80 — on sale!)
4. Feline Sunglasses via In God We Trust ($20)
5. Ancile Earrings Brass via In God We Trust ($100)
6. Eat NYC Tote via Fanaberie ($25.95)
7. Tiger Stripe Romper via Old Hollywood ($158)
8. Cate Sandal via Old Hollywood ($70)
9. Carved Arrow Wrap Ring via Old Hollywood ($78)
10. Vintage Levis Cut Offs via Fox and Fawn ($24.95)
11. Hawaiian Print Luanne Top via In God We Trust ($110)
12. Goucher Sunglasses via In God We Trust ($20)
13. Beach Spray by Brooklyn Beach via People of 2morrow ($20)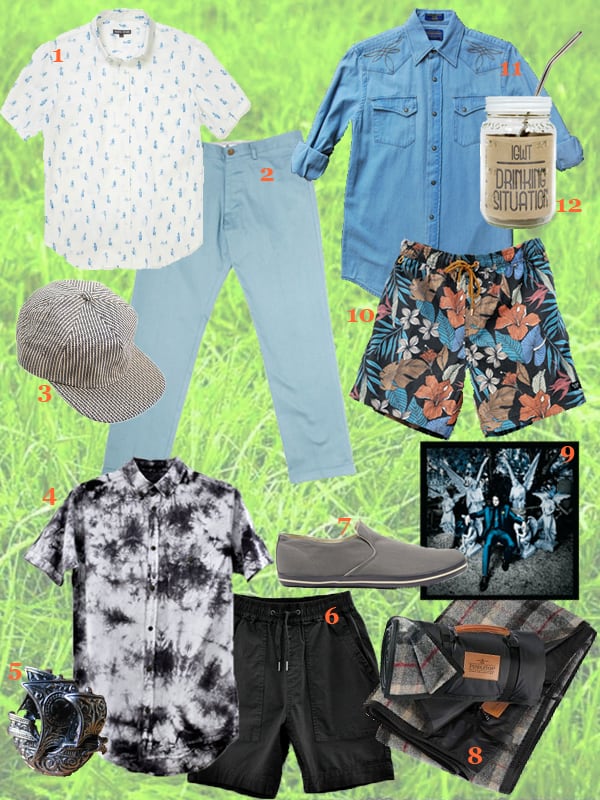 1. Jennifer Pin Up Girl Shirt via Old Hollywood ($150)
2. Blue Cotton Twill Summer Pant via In God We Trust ($145)
3. Ball Cap Engine Stripe via In God We Trust ($55)
4. Zanerobe Seven Fit Shirt in Tie Dye via Alter ($99)
5. Voyager Ship Ring via Old Hollywood ($89)
6. Zanerobe Gabe Short via Alter ($79)
7. Zuriick Ake Canvas Slip-On in Grey via Alter ($55)
8. Pendleton Park Blanket via Old Hollywood ($130)
9. Jack White's "Lazaretto" via Permanent Records (priced in store)
10. Globe Swim Trunks in Floral via Alter ($65)
11. Lightweight Fitted Gambler Shirt via Old Hollywood ($99.50)
12. Drinking Situation via In God We Trust ($24)