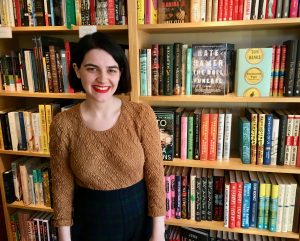 What types of books are your fellow Greenpointers curling up with this winter? More winter survival tips are coming your way this week, this time we get some solid literary recommendations from Word Bookstore's Brooklyn floor manager Steffanie Ostrowski.
Check out our previous interviews here, here, here, here and here.
BOOKS: WORD BROOKLYN | 126 Franklin Street
Steffanie Ostrowski, Floor Manager
Greenpointers: What types of books are currently the most popular at the Greenpoint store?
Steffanie Ostrowski: I think that in general, everyone is looking for a lot of social science books so that they can learn about things that are going on today. Also, there's the escapism of fiction so that they don't have to deal with the world, so people are getting the new fiction that's coming out. When Pete Souza's Obama book came out, that was our big ticket item. Now it's out of stock everywhere because everyone just wanted to remember. Continue reading →
Category:

Art/Music, Community, Culture, Style/Shopping
Tags:

bar, Bars, books, bookstore, Franklin Street, Greenpoint, greenpointers, Manhattan Avenue, Music, wellness, Word, word brooklyn
0 Comments