Fred Flare 2 Day Going Out of Business Extravaganza Tonight & Tomorrow (11/22-23)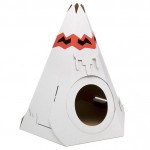 We got the news from Brooklyn Based that Fred Flare, the clothing and novelty store that has a warehouse at 300 Kingsland Ave in Greenpoint is going out of business and they are having a huge blowout sale / party this Friday (7-9pm) and Saturday (11am-4pm). There will be DJs, a bake sale, art and home furnishings and tons of merchandise at deep discounts.
I always loved their fun sample sales. Now where am I going to get my $0.50 red solo cup ceramic shot glasses, $1 cardboard cat teepee and $5 dresses?