"Get To The 'Point" 5K Run This Sunday (10/13)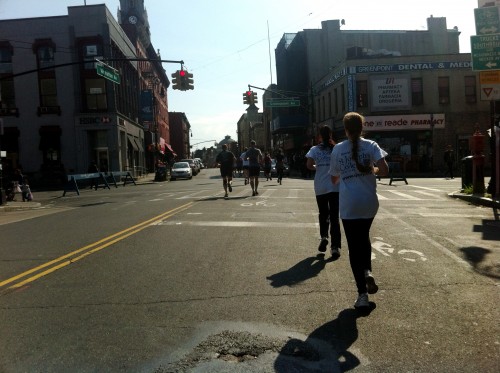 This Sunday, a number of major streets in Greenpoint will be closed down to traffic to allow for the annual "Get to the 'Point"5K run to take place. Now in its 21st year, GTTP is a fundraiser organized by the good people at St. Stan's church over on Driggs helps to provide for an education to over 250 children each year through their Catholic academy. The cost is only $20 in advance of race day ($25 day of) and you get a t-shirt that you will probably never wear again, unless it's to the track at McCarren.
Having personally run in the 5K a number of times over the years, I highly recommend my fellow Greenpointers to participate in the event, regardless of whether or not you're a runner. Being able to experience the neighborhood with a number of important streets being closed to traffic is a unique and refreshing perspective. In addition, your ticket gets you into their "post race party" which has free food, dance contests and is a surreal enough experience to warrant the cost of admission alone. All in all, it's a very well coordinated event and its ongoing success speaks well to the people working behind the scenes helping to make it all happen.