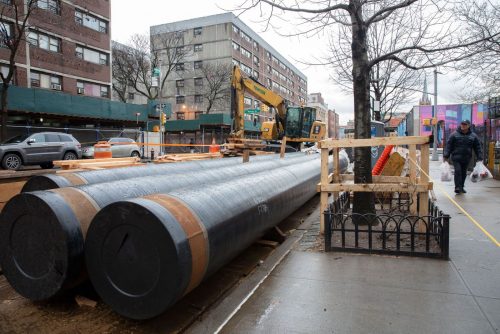 This story was originally published on 2/14/20 by THE CITY. (By: Claudia Irizarry Aponte)
---
Construction of a 6.8-mile natural gas pipeline stretching from Brownsville to North Brooklyn has hit a wall in Greenpoint, where community leaders and elected officials are vying to halt the project as it reaches its final stage.
The National Grid gas main — which has been in the works since 2017 — would supply fracked gas from Pennsylvania, where the extraction is legal. The controversial practice was banned in New York state in 2014.
On Saturday, a community coalition of environmental advocacy groups, schools, and social justice groups will host a rally at the pipeline's latest construction site, the intersection of Moore Street and Manhattan Avenue.
"I am familiar with the history of environmental devastation in my neighborhood," said Kevin LaCherra, a third-generation Greenpointer who is helping organize the rally. "We need our elected officials to be taking bold steps to bring renewables on now."
The pipeline opponents are calling on Gov. Andrew Cuomo and Mayor Bill de Blasio to stop the project on the grounds that it goes against both the state and the city's clean energy goals.
"This is not the kind of system we want any more," Kim Fraczek, director of the Sane Energy Project, an environmental advocacy group, told THE CITY. "This industry doesn't have the interests of the community at heart."
Their claims are quickly gaining momentum: On Tuesday, Brooklyn's Community Board 1, which includes Greenpoint, voted unanimously to stop any construction of the pipeline.
Advocates say they have the support of every single elected official who represents North Brooklyn at the state and city level, from City Councilmembers Stephen Levin and Antonio Reynoso, to State Sen. Julia Salazar and veteran Assemblymember Joe Lentol.
Levin, Reynoso and Lentol all confirmed to THE CITY they oppose the pipeline's construction, Salazar did not return requests for comment. Continue reading →