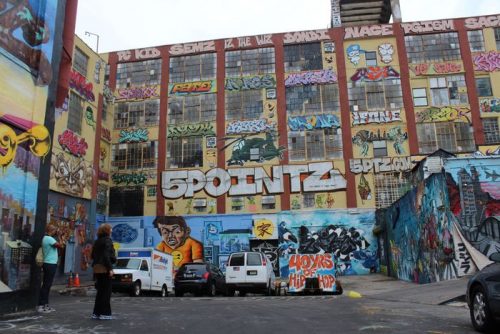 This story was originally published on 7/1/19 by THE CITY. (By: Christine Chung)
The developers who whitewashed the street art at the legendary Queens graffiti hotspot 5Pointz want to paint over bad feelings and lure artists back to the site.
The owners are vying to capitalize on the Long Island City property's colorful history — replacing the once-art bedecked warehouse complex with a luxury apartment development dubbed 5Pointz Towers.
"It's hard when you get bashed in the papers, but we've always been pro-artist and we always wanted artists and we would love to have some of the artists that were at the building before to come back again," said David Wolkoff, who co-owns the complex with his father, Gerald. "That's up to them. I would love to speak to them."
In November 2013, before the warehouse complex's demolition, painters erased the work of thousands of international street artists who had decorated the ever-changing building.
That spurred some artists to file a federal lawsuit in Brooklyn. In February 2018, a judge ruled in their favor and ordered the developers to pay $6.7 million in damages. The Wolkoffs appealed the decision and are awaiting a court date.
David Wolkoff said the name of the 1,122-unit development was picked because "that was what the site has been for…years." A promotional website is littered with renderings of people leisurely strolling in verdant open space, bordered by street-art murals.
"We really enjoyed the work they placed on the walls previously. We have always enjoyed it. If we didn't, we would not have allowed it to happen," Wolkoff told THE CITY. "For 20 some-odd years, longer than that, we were always planning on building a big building." Continue reading →