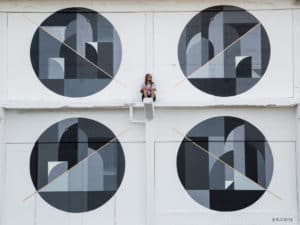 Tony "Rubin" Sjöman grew up in Bergsjön, Sweden, and began doing graffiti when he was 9 years old.  Painting under the name Rubin415, he splits his time between large scale murals, and studio paintings, specializing in a unique geometric style, and a clean aesthetic, reminiscent of Scandinavian design. He uses fine line, and abstract shapes, meticulously painted with a very specific palette and many shades of grey.
Rubin's style is an elaborate evolution of his longtime work with graffiti. The precise curves, lines, and shapes originate from his adopted graffiti name "Rubin" and along with shapes inspired by the surrounding urban landscape, appear in an abstracted form throughout both his studio and street art work. The 415 in his name is a homage to his hometown Bergsjön in Sweden. The thin copper lines accenting some of the pieces are a tribute to Rubin's father who was a welder.
We met in his studio in East Williamsburg to talk about his current projects, the influence of his Scandinavian roots, and the effects street art has on neighborhoods.