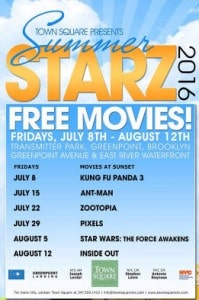 If you are a parent, you can skip to movie dates and times on the calendar to the left there.
You know those films by heart already, you watch them over and over again with your kids until they fall asleep.
Transmitter Park is a beautiful place to see it outside, while they drift into unconsciousness.
Below is for the rest of us.
Category:

Culture, Film
Tags:

90210, Ant Man, BB8, Inside Out, Paul Rudd, Peach Pit, Pixels, R2D2, star wars, SummerStarz, Transmitter Park, Zootopia
0 Comments