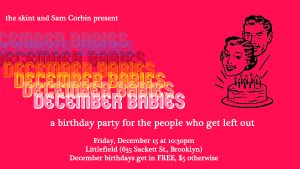 Reclaim your birthright at the December Babies Birthday Party, an all-out celebration for the folks too long forgotten! This Friday at Littlefield (635 Sackett St). Reserve your ticket or RSVP here and invite your friends on Facebook!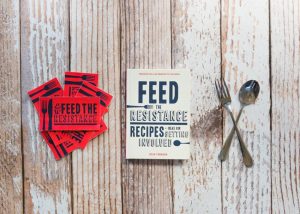 WEDNESDAY 12/13
♫ More Women in the Art World @ 188 Broadway, 6pm, FREE, Join us for an art exhibition, music, interviews, activities, and discussions. If you are a female-identifying person in the arts, we want to interview you at our event on what you think is missing in the art world! More info
# Big Brooklyn Holiday Toy Drive @ Anella (222 Franklin St), 6:30pm & 8:30pm Seatings, $75, Fundraiser dinner includes three-courses and wine. All proceeds go towards delivering toys to kids who are most impacted by homelessness, poverty and food insecurity throughout North Brooklyn. Join NYC Together, the local community, and Anella to bring kids in need some holiday cheer!  Buy tix
# Feed the Resistance with Julia Turshen and Jessica Harris @ MOFAD (62 Bayard St), 6:30pm, $25, Cookbook author Julia Turshen and food scholar Dr. Jessica Harris discuss ways we can become more politically engaged and active through the power of food and the dinner table, Buy tix
♫ Inventory @ Center for Performance Research (361 Manhattan Ave), 7pm, $20, Follow the journey Inventory has taken since its start in 2014, witnessing the diverse creations and unique style the company continues to develop, Buy tix
♫ The Dear Hunter @ Warsaw (261 Driggs Ave), 8pm, $25, Buy tix
# Trivia Night @ Archestratus Books + Food (160 Huron St), 8pm, FREE, Expect categories to be various, beer innumerable, arancini aplenty. Win Beer! Win Food! RSVP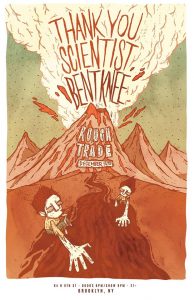 THURSDAY 12/14
♫ Re/IMAGINE: Holiday Ball for No Kid Hungry @ The William Vale (111 N 12th St), 7pm, $40 suggested, Peace Accelerators, we are SUPERNATURAL, and Future Clear will transform the Ballroom into an exploration of our high potential. Expect an immersive forum for radical inspiration and community activation and even possibly… romantic connection, Buy tix
♫ Honey Harper, Nicholas Nicholas, Calvin LeCompte @ Union Pool (484 Union Ave), 8pm, $10, Buy tix
♫ Thank You Scientist / Bent Knee @ Rough Trade (64 N 9th St), 8pm, $15, Buy tix
☺ Drop the Mike @ Threes @ Franklin + Kent (113 Franklin St), 8pm, FREE, Drop the Mike 2nd year anniversary/holiday party hosted by Kendra Cunningham, More info
Continue reading →
Category:

Events, What's Happening?
Tags:

Archestratus Books and Food, Baby's All Right, black flamingo, brooklyn bazaar, Brooklyn Bowl, C'mon Everybody, Catland, Center for Performance Research, events, Le fanfare, littlefield, Magick City, Market Hotel, MOFAD, Our Wicked Lady, rough trade nyc, saint vitus bar, Secret Project Robot, Silent Barn, The Good Room, The Park Church Co-op, The William Vale, the woods, threes @ franklin & kent, union pool, UnionDocs, Videology, vital joint, Warsaw, what's happening
0 Comments