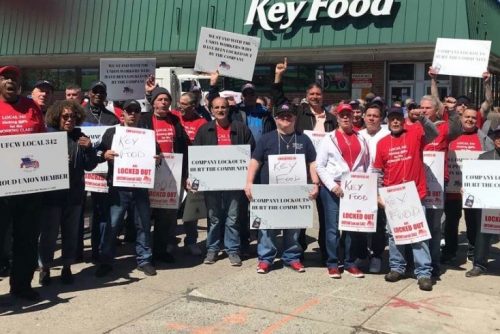 UPDATE: The rally has been rescheduled for Sunday, May 19th, from noon- 1 p.m. at the Greenpoint Key Food.
Approximately 40 Key Food meat department workers at seven local stores, including the Greenpoint Key Food, are locked out and have been without pay since April 6th in an ongoing contract dispute.
A community action is being held in Greenpoint this weekend in solidarity with the workers, who are represented by the United Food and Commercial Workers' Local 342.
The "Mother's Day Rally for Locked-Out Key Food Workers" is happening Sunday, May 12th, from 2 p.m – 3 p.m. at the Greenpoint Key Food (224 McGuinness Blvd.) Continue reading →
Category:

Community, Events, News
Tags:

Breooklyn, Brooklyn, Greenpoint, greenpoint brooklyn, Key Food, Key Food Brooklyn, Local 342, NYC, Protest, UFCW, Williamsburg, williamsburg brooklyn
0 Comments