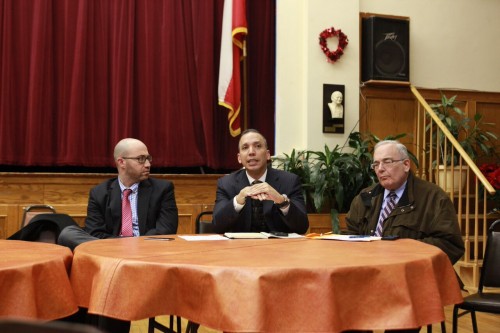 The swell of crime in North Greenpoint is still not the type of thing we're discussing in yesterday's terms, but things, on some level, appear to be happening. The fact that city officials scheduled a followup town hall meeting so soon after the last one is testament to the notion that they're taking things seriously, even if residents are pretty firm on their stance that they haven't gotten serious enough.
As many God Bless Deli II loyalists can attest to, the corner of Clay and Manhattan is frequently a hub of aggression, and some residents feel that it has to do with the homeless shelter at 66 Clay Street that moved into the neighborhood about a year ago. The tension that's erupted in the months since can be traced to anything ranging from "quality of life concerns" to actual assaults on people who live nearby.
It's unfortunate no matter how you slice it. Though the violence tends to stay between the clients (it's a couples shelter, so domestic violence disputes come with the territory), there have also been reports of muggings, assaults, and sexual harassment afflicting the neighboring community. Greenpointers are also pretty unhappy about living with the constant shouting, aggression, and drug dealing that goes on, especially insofar as their children are concerned.
"There's an aggression that comes out of 66 Clay," said one local man at the meeting, which took place Dec. 7 at the Polish & Slavic Center at 176 Java Street. "We can feel it; we can sense it; it's a totally different vibe. The BRC guys [at a neighboring shelter on McGuinness] say 'hello, how are you.' [The residents at Clay Street] come at you, block the sidewalk. It's just a constant aggression and different kind of person." Continue reading →