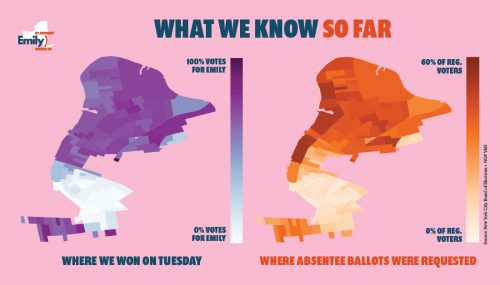 After the pandemic struck, Kevin Forsyth, a resident of East Williamsburg, went up to his parents' place in Connecticut to ride out the worst of COVID-19's spread.
Anticipating that he wasn't going to be in Brooklyn for the Democratic primary, he then filled out an application for an absentee ballot in May. But come June 23, it still hadn't arrived. On primary day, he decided to make the two-and-half-hour drive back into Williamsburg to vote in person.
"It was pretty absurd," he said. "But I know those primaries matter, and these races are tight. I wanted to show up for it."
Forsyth's story is one of ten Emily Gallagher, a candidate for the 50th District in the state Assembly, has collected to document absentee ballot irregularities during a primary amidst a pandemic. Despite voters reporting issues with absentee ballots, Gallagher remains optimistic that these votes will clinch her first position in elected office.
Incumbent Assemblyman Joseph Lentol hopes, however, that his 15% lead over Gallagher after in-person voting won't budge. Tomorrow, the New York City Board of Elections (BOE) will put each candidate's optimism to the test as it begins to tally mailed-in votes across Brooklyn. Continue reading →