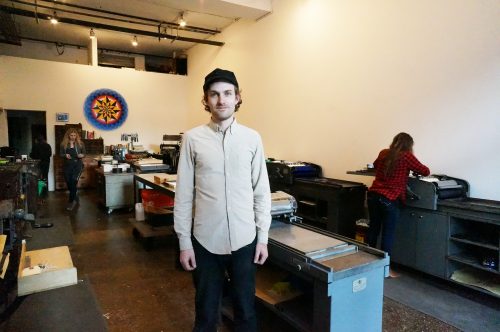 On a quiet stretch of North 7th Street, neighboring the BQE, in the shadows of rising condominiums, lies a glass-front, converted warehouse space. There's no signage, no buzzer, and from the outside, it's unclear what is going on inside: a handful of people hover over large gray machines, operating levers and rolling cranks. With just a little imagination it could be a white-walled submarine or some kind of steel widget factory.
"I've never hung a sign out front," says the founder and owner, Daniel Gardiner Morris. "When I have events, I have a little A-Frame sign that I'll sometimes put on the sidewalk. It's almost maybe superstitious at this point that I've never put a sign up."
Not knowing what they do in there is one thing. Not knowing it's there is another—it's been at that same location since opening in 2004.
Inside, the space is awash in daylight from the large windows. The room itself is longer than it is wide, and lined with silver and grey metal machines, rollers attached, a few rustic wooden cabinets, and in the middle of the room is a grouping of tables topped with posters and wood blocks and artist tools.
Is it beginning to come together? Yes! It's The Arm (281 N 7th St), Williamsburg's longstanding public access letterpress studio, which Daniel Gardiner Morris has owned and operated for nearly 15 years.