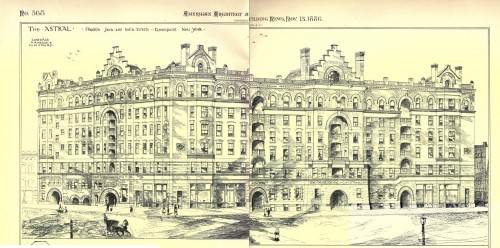 In 1919, The Brooklyn Daily Eagle devoted some glowing coverage to Greenpoint, calling our slice of North Brooklyn "the first manufacturing center of the Empire State," where "the smokestack is as sacred as the steeple," and "public spirit…is not surpassed in any district in the City of New York."
Our intrepid content manager, Megan, found the article earlier this week, and we thought the paper gave such a detailed view of life in Greenpoint 100 years ago, we'd do a series on life in the 'nabe back in the day.
So, Welcome to our first installment of Do The Time Warp, when we look back on life in Greenpoint 100 years ago. In today's post, we'll check out Greenpoint's housing market circa 1919, and delve into what life was like for people who lived here.
It seems that some of the same advantages that draw New Yorkers to Greenpoint today, exerted a similar pull 100 years ago. For example, the Brooklyn Daily Eagle reported that "the close proximity of this district to the center of business life in Manhattan has been fully recognized by the far-seeing manufacturers of the metropolis," and by homeowners alike.
In fact, homeownership was common in Greenpoint. The paper maintains, "Housing conditions have been remarkably good, and despite the fact that Greenpoint is generally known as a manufacturing district, a large percentage of the dwellings are owned by persons who live on the premises and are employed in or near Greenpoint." Happily, this seems to have kept Greenpoint "particularly free from that class of undesirable citizens known as 'rent profiteers'."  Continue reading →