At our Fall Market this past Sunday, the community came together and helped to raise more than $700 for the Hurricane Maria Community Recovery Fund—where 100% of funds support low-income and communities of color relief and rebuilding efforts.
As we reported earlier this week, the former bartender/manager and chef of shuttered bar The Habitat are also looking for some help after their post-Habitat plans to move to Puerto Rico were seriously derailed following the hurricane. Additionally, local salon The Karcher (72 Greenpoint Ave) is collecting used Halloween costumes, and the proceeds from the sales will benefit hurricane victims. As it turns out, there are tons of upcoming events (including two tonight!) to benefit recovery efforts—so here's even more ways you can donate, have fun and throw back a drink or two!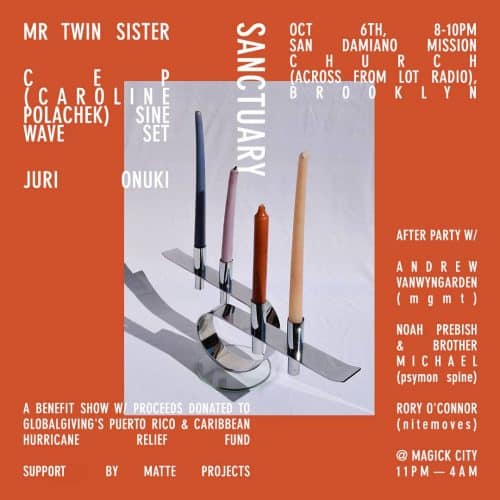 Sanctuary: Puerto Rico Benefit Show feat. Mr Twin Sister, CEP, Juri Onuki
@ San Damiano Mission | 21 Nassau Ave
Friday, October 6th | 8pm-10pm
$35, More info
Live Performance by Mr Twin Sister, Ambient Sine Wave Set from CEP (Caroline Polachek), Dance Choreography by Juri Onuki. Beer from The Brooklyn Brewery, The Old Blue Last & Other Half Brewing Company, Wine from Zev Rovine Selections, Kombucha from MOMBUCHA, Complimentary charcuterie w/ ~tipsy condiments~ from Sable & Rosenfeld. Proceeds will be donated to GlobalGiving for both short & long term relief for locals affected by Hurricane Irma & Maria.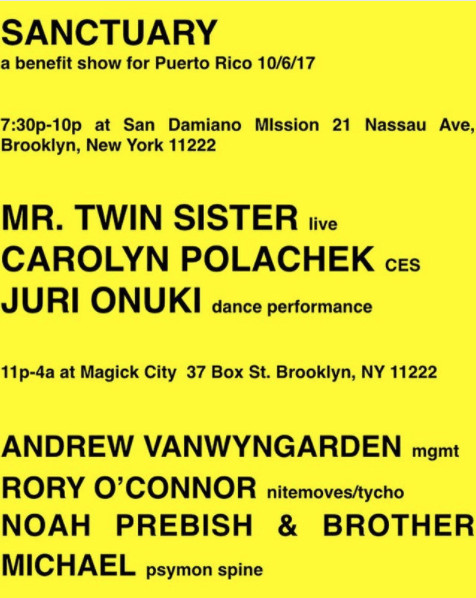 Sanctuary: Puerto Rico Benefit Show After Party
@ Magick City | 37 Box Street
Friday, October 6th | 11pm-4am
$15, More info
DJ sets from: Andrew VanWyngarden (@nadrewvanwyngarden MGMT), Noah Prebish & Brother Michael (@noah_spine @brother.michael PSYMON SPINE), Rory O'Connor (@nitemoves Nitemoves / Tycho) Continue reading →
Category:

Art/Music, Culture
Tags:

Donate, freehold, habitat, halloween, hurricane, karcher, Kinfolk, Magick City, Our Wicked Lady, puerto rico, San Damiano Mission, the karcher
0 Comments