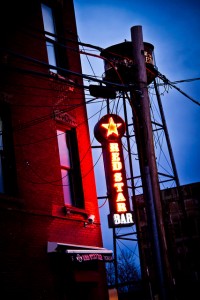 Red Star, the host of the Best Wings in Brooklyn contest, has returned to its roots as a sports bar.
In the summer of 2015, after eight years as Red Star, the bar closed down for renovations. The corner spot reopened in October 2015 as Cozinha Latina, a Brazilian restaurant.
Now Red Star is back, and with it, its wings — including the raspberry barbecue wings that surprise the sweet skeptic and the rest of the wing flavors — sweet and sour, barbecue, hot, mild, and medium.
New chef Nick Porcelli, who has appeared on Chopped and studied under Gordon Ramsay, is at the helm of the new Red Star.
Read on for more about why Red Star returned to its origins. Continue reading →