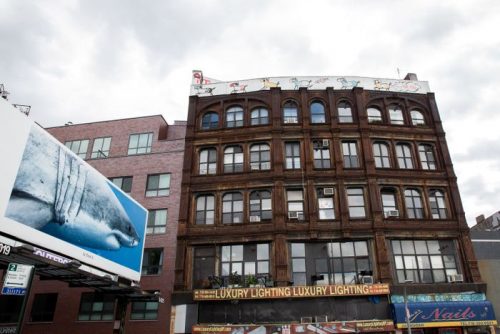 This story was originally published on 5/31/19 by THE CITY. (By: Claudia Irizarry Aponte and Josefa Velasquez)
For months, residents of a Williamsburg artists' loft have been pleading with city agencies to help them gain protection under the state's Loft Law.
Now the Department of Buildings is finally paying heed — just as the building's management has begun asking tenants to leave 240 Broadway.
The residents called on the Department of Buildings in January to revoke the property's certificate of occupancy as a mixed-use building, arguing the department overlooked dangerously shoddy construction 16 years ago.
If the certificate from 2003 is yanked, the tenants believe they will be able to apply for protection under the Loft Law, which would shelter them from arbitrary eviction, inordinate rent increases and subpar living conditions.
"You just assume your sprinkler system is up to code and there are no flags," Britta Riley, a painter who has been living in the cast-iron building for 12 years, told THE CITY. "We didn't even know to look into the Department of Buildings' records."
The building's construction permits were obtained beginning in 2003 by Henry Radusky, an architect investigated in 2002 by the Department of Buildings for questionable paperwork on another project and sanctioned with a one-year curtailment of his filing rights. Radusky did not return calls for comment.
The Department of Buildings disregarded tenants' pleas, for months, they say — only to inspect the building on May 17 and again on May 23, after THE CITY started asking questions.
Now, an audit of the original certificate of occupancy is underway.
"Following concerns raised by the tenants and local elected officials, DOB has initiated an audit of the 2003 alteration project at 240 Broadway and the resultant Certificate of Occupancy," the department said in a statement to THE CITY last week. Continue reading →