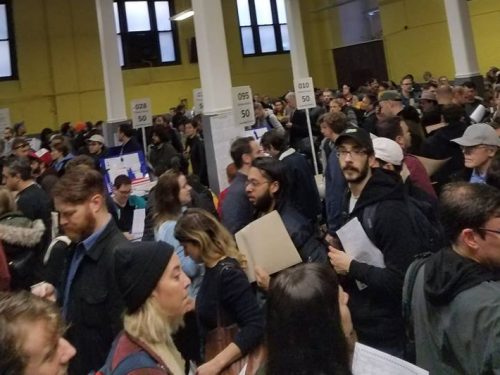 The outrage caused by widespread voting machine breakdowns throughout New York City on midterm election day is largely falling on the shoulders of Board of Elections Director Michael Ryan.
At Greenpoint's polling sites wait-times exceeded two hours throughout the day, as ballot scanners overheated, jammed and simply stopped working. Greenpoint was not alone, Brooklyn Borough President Eric Adams counted 49 poll sites facing similar dilemmas.
Voter turnout increased 88 percent in NYC this year for the midterm elections compared with the 2014 midterms, but decreased by nearly one million voters compared with the 2016 presidential elections, according to Gothamist.
BOE director Ryan said that 56 ballot scanners were taken out of service on Tuesday between 6 a.m. and 9 p.m., the 15-hour window which saw 1.9 million NYC voters — each with two double-sided ballots — overwhelm the eight-year-old scanners that were expected to be used for 10 years. 6,000 calls were made to 311 pertaining to election day woes.