There are more events in our weekly calendar. Submit Greenpoint events, too!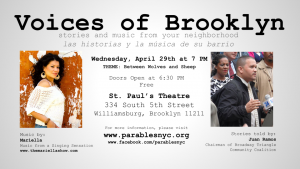 WEDNESDAY 4/29
* Voices of Brooklyn: Between Wolves & Sheep @ Parables (334 Sough 5th St) 7pm, $15 suggested, Soulful vocals and body shakin' grooves paired with stories of learning what protection truly meant in the of Williamsburg in the 80s and 90s, RSVP
♫ The Hunger (1st Course) @ Bar Matchless (557 Manhattan Ave) 8pm, $10, Hungry March Band begins their monthly Matchless residency, this month with Stumblebum Brass Band and Reggay Lords, RSVP
* The Strange Journey Through Every Bodega in New York @ Acme Studio (63 North 3rd St) 8pm, $15, Obscura Society presents one woman's odyssey documenting an overlooked but deeply idiosyncratic NYC icon before it disappears, More info
Category:

Events, What's Happening?
Tags:

Acme Studio, bar matchless, Brooklyn Night Bazaar, Center for Performance Research, cinco de mayo, Eastern District, firehouse space, flux factory, Gottscheer Hall, Kentucky Derby, kings county saloon, Lucky Luna, Obscura Society, pete's candy store, tender trap, the swamp, tod seelie, Triskelion Arts, union pool, Villain, WORD bookstore
0 Comments