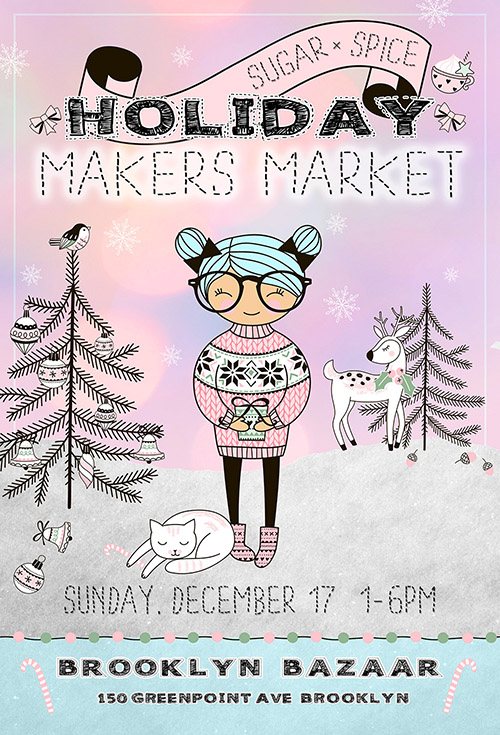 Holiday markets are a beloved Brooklyn tradition (you know we love 'em). This year, a brand-spankin' new one is hitting the scene right here in Greenpoint! It's the Sugar x Spice Holiday Markers Market (RSVP here for updates), happening this Sunday, December 17th from 1:00–6:00pm at Brooklyn Bazaar (150 Greenpoint Ave.)
The market's 30+ vendors will include a full range of gift-ready wares, from eco-friendly clothing to artisanal dioramas, bath and body products, handmade jewelry, crocheted accessories, stationery, artwork and more.
Extra-festive fun awaits in the form of a free wintry photobooth, live performances, tarot card reading and other seasonal surprises. If that's not enough to convince you, the first 20 customers are getting gift bags at the door… and they don't even have to be on the "nice" list!
If you're looking for the perfect gift or you just want to support small businesses and artists in our area, you owe it to yourself to come by this quirky, fun market. Did we mention? Admission is free! Be sure to RSVP here, and pop a note on your calendar! Read on for a preview of some of the creative, stylin' vendors…